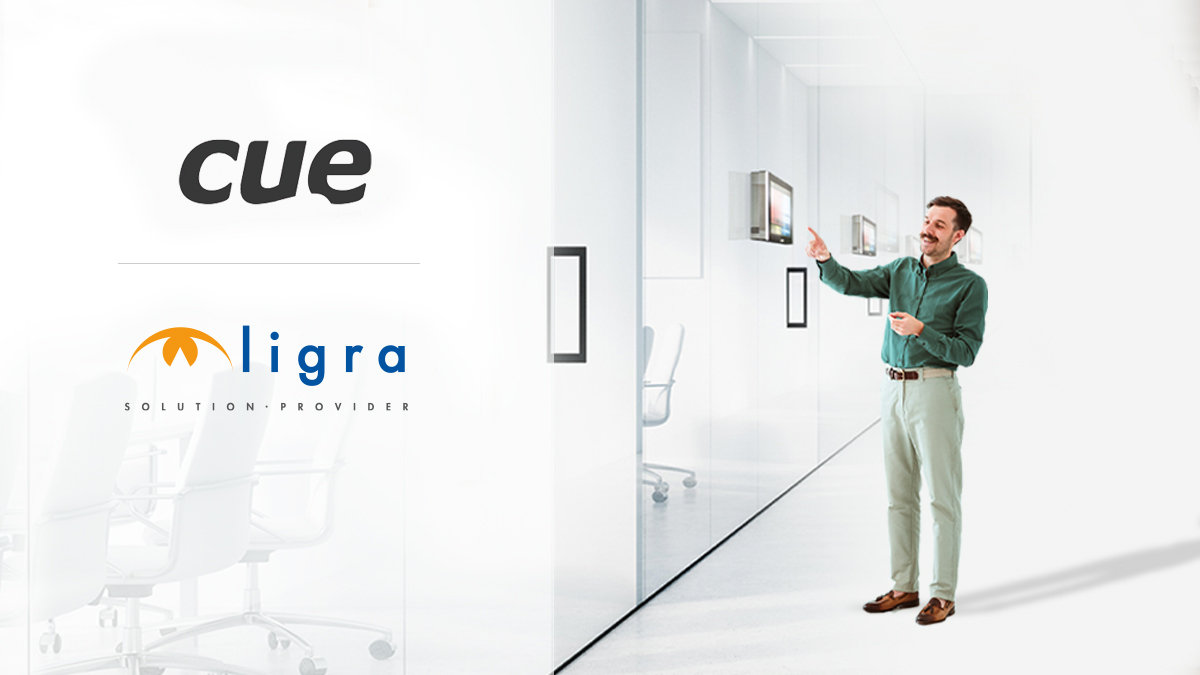 CUE, a leading Czech manufacturer in the development of home automation solutions for commercial applications, is pleased to announce a partnership with Ligra DS for the distribution on the Italian market of its professional solutions for room reservation and building automation, whose strengths lie not only in the flexibility of the solutions themselves and their ease of use, but above all in their cloud-based management and the possibility of integrating different devices and protocols with each other.
Conference room reservation systems and building automation
CUE, a company from the Czech Republic with 27 years of experience, designs, manufactures, and markets IP-based integration systems with a graphical user interface based on innovative proprietary control panels that improve the way people work and live. Aimed at commercial and residential, corporate, educational, industrial and government applications, CUE systems allow you, for example, to manage a multilingual meeting room reservation system. Or to control the entire technical equipment of a room (audio-visual devices such as projectors, monitors, DVD players, but also lighting, heating, air conditioning, shutter movement) from a single touch panel. No specialist knowledge is required as installation is quick and easy.
CUE technology, based on hardware and software, is designed to give prestige to the entity or individual who decides to adopt it and ease of use, and enjoyment, to consumers.

As mentioned, the company manufactures a wide range of wired and wireless control panels, including attractively designed touch screens, wall-mounted pushbuttons and remote controls, but also supports Wi-Fi touch panels thanks to its pdCUE operating system, which can be used with many commercially available PDAs and tablets, as well as laptops and PCs, enabling CUE touch panel solutions to work on a wide variety of products from a wide range of brands.
The main advantage of CUE is to save installers time and money with powerful, professional and easy-to-use XPL application creation tools. This enables the authoring of drag-and-drop software with an extensive driver library.
The catalogue includes a wide range of interfaces including TCP/IP, RS-232, RS-422, RS-485, DMX512, relays, IR emulation and transmission, I/O, analogue to digital signal conversion, voltage ramp output, etc., to name but a few.
TouchONE Reservation System
TouchONE is a booking system for meeting rooms, conferences, classrooms, auditoriums, sports centres and any other meeting place. Booking is easily done directly from the touch panel, a computer or mobile device via Outlook, Microsoft Office 365, Microsoft Exchange Server or Google G Suite. The touch panel shows the current room status, the booking calendar and other options such as cancellation, extension or termination; it can also show a general summary of all bookings, e.g. in the lobby or at reception.
TouchONE technology is not only suitable for small offices, businesses and sports centres, but also for large corporate installations. The stability and scalability of the entire system allows for dozens of touch panels that can be interconnected with the main panel, e.g. in the reception area.
The parts that make up the system - touch displays, interfaces, presence sensors - can be combined with each other and managed remotely using special apps for Apple iOS and Android, or computers, with ease.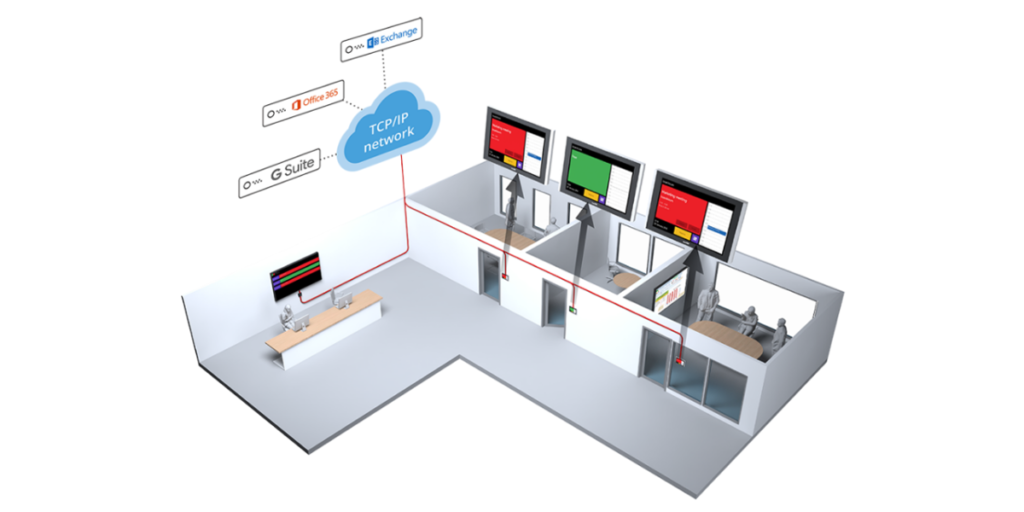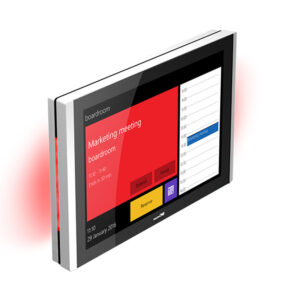 Business and professional applications
CUE does not only means room reservation systems, but also automation systems for halls conferences, classrooms, museums, reading rooms, hotelscontrol rooms, etc. 
An example? Premendo the PRESENTATION button on the display, the entire room is set to presentation mode: the videoprojector lights up, the projection screen will lowerinputs A/V are switched on the computer, set appropriate lighting conditions, etc. 
No participant is stressed by the use of complex technologies: the system offers intuitive control with a minimum of control functions. With System CEUoperator can control the intero hall equipment from a panel touch. Lighting can be controlled with various presets d'lighting for the desired lighting atmosphere at the push of a button. 
Sand the operator has problems with the operation ofi dispositivi, you can call the technical centre which can check them remotely. The diagnosis remote and automated allows indeed timely action in maintenance; the Cue system sends an e-mail to the service centre indicating that a lamp in the projector needs replacing or a filter needs cleaning, or a warning by device malfunctioning. 
Classrooms
In classrooms, the CUE system simplifies the operation of audio-visual equipment, lighting or heating, ventilation and air-conditioning systems, and enables central supervision of all rooms in the building (e.g. centralised switching off of electrical equipment at night, including those in rooms where teachers may have forgotten to do so).
Reading rooms
In reading rooms (libraries, etc.), CUE simplifies the operation of all the complex A/V technologies currently in use, such as switching microphones, controlling sound systems, operating switching arrays, cameras and signal sources, as well as lighting effects - all from an ergonomic touch panel.
Hotels
In hotels, CUE offers automated control of audiovisual equipment, lighting, heating, air conditioning, etc.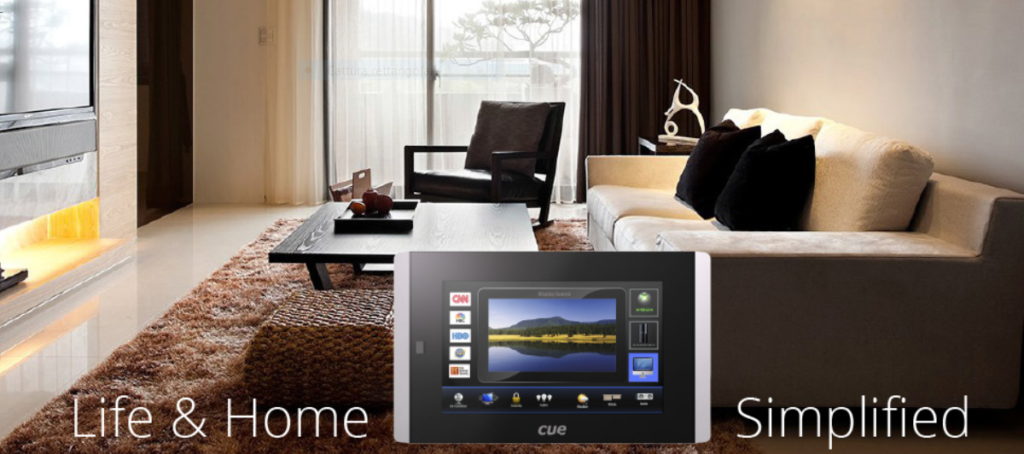 All technologies normally intended for residential use, combined in a single system, allow you to transform even your non-residential building (hotel, school, hospital) into a future-proof environment. For example, you can remotely access the various rooms via the Internet, e-mail or SMS text messages. In this way, your building's 'website' will allow you to monitor the current status of your building including indoor and outdoor temperatures, turn on the heating or... water the garden lawn!
There's more: the control system can automatically raise or lower the blinds according to the intensity of sunlight, which helps regulate the lighting and temperature in the room. In summer it can reduce the cost of air conditioning in rooms exposed to direct sunlight. In strong winds, it ensures that awnings are retracted, protecting them from damage.
The connection of gates, doors and windows to the control system facilitates the automatic unlocking of doors. If you forget to close a window, the caretaker will be notified.
With CUE, intrusion security systems can also be controlled. There is no need for a separate keypad for the security subsystem: all you need are the switch panels of the control system. The system can thus activate the presence simulation when you leave or enter, or send you a message in the event of an alarm. In addition, thanks to the control system's touch panel, you can monitor anything captured by the security cameras.
The CUE control system can automatically perform pre-set actions as requested by the user. For example, after switching off the security system, it can turn on the lights and activate background music. It can also simulate presence on the premises during people's absence, thus deterring intruders.
With the help of the touch panel or keypads, you can play your favourite music or turn on the television or radio to the chosen programme, automatically setting the volume to the desired level.
Finally, A/V operation can be automated and simplified, eliminating the need for multiple remote controls. For example, pressing a single WATCH FILM button on the touch display automatically turns on the TV, DVD player and sound system. The appropriate inputs are selected, the room lighting is set, and the curtains are drawn.
Integration of multiple technologies
Building automation systems use many different devices and technologies.
In general, each technology makes use of its own mobile application that allows the visualisation and control of specific devices or areas: security, locks, lights, HVAC, A/V systems, etc. The user would thus have several applications to configure, learn and use, and all of them are different. In addition, many technologies only allow control from a mobile device; in case of loss, or low batteries, control is impossible.
Ultimately, most automation technologies around the world lack very important features, first and foremost integration with others. 
This means that there is no common way in which they could exchange data, thus creating an intelligent and truly automated environment.
CEU System provides an integration platform to solve this problem. In fact ...
Integrates various devices, protocols and systems based on worldwide technologies KNX, DALI, Modbus, EnOcean, DLNA
 

Provides simple and secure integration

 

 

Allows the exchange of data between devices and systems

 several

 

 

Control and automate all technologies

 

 

Control technologies from a single application on your mobile device and then eliminate separate applications dedicated to the 

same

 

 

Check all

i devices 

using wireless/desktop/wall-mounted touch panels, keypads, pushbuttons, etc.

 

 

Activate all

i devices 

for date, time, temperature, etc.

 

 

Offers a high level of flexibility through broad support of various standards