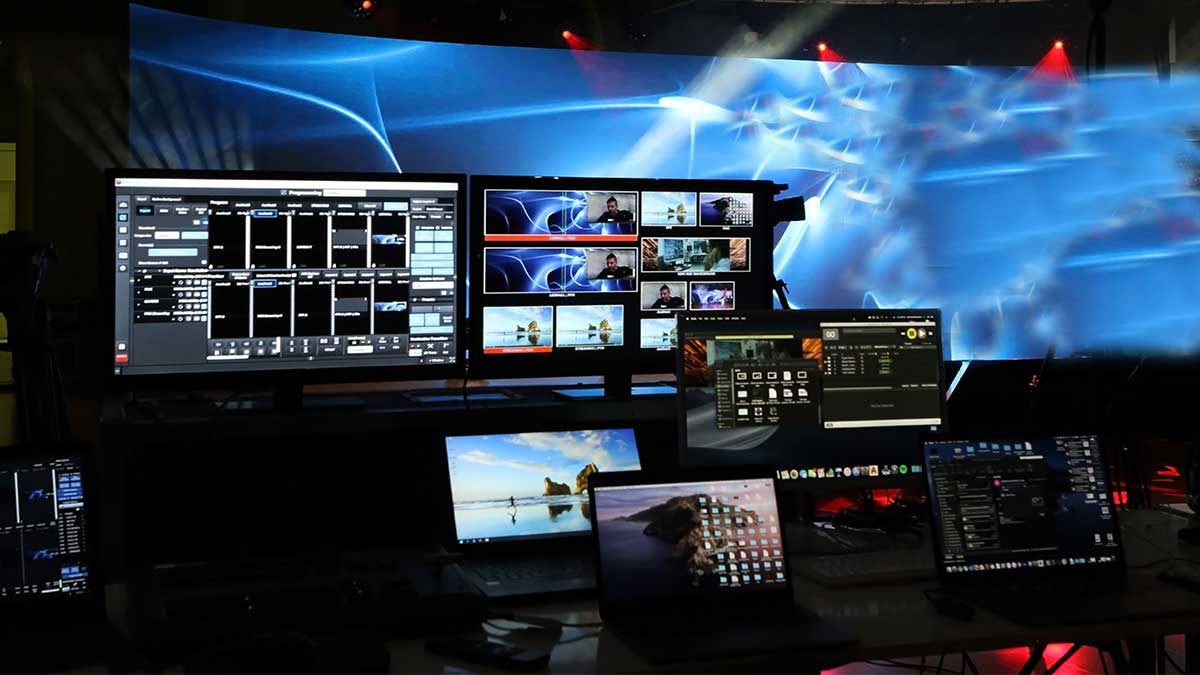 The term streaming identifies a particular system for transmitting audio/video content via the Internet that allows users to enjoy it without having to wait until it has been completely downloaded onto their PC, mobile device or smart TV. On a daily basis, we appreciate the advantages that streaming-based platforms from YouTube to Netflix, from Chili to Amazon Prime TV offer users. In this technical insight, however, we will not focus so much on streaming at the level of content enjoyment (streaming on demand), as much as of the tools we need to make live streaming (or live streaming): the production of A/V content that has to be, precisely, 'squeezed' onto an appropriate platform, where it will be visible to a wide audience. In this sense, it can be said that this mode of signal transmission has all the characteristics of a broadcast transmission, i.e. from a transmitting station (the studio) to various receivers: in this case, the multimedia devices of the users who will view the live streaming content.
 It should be pointed out from the outset that in this case, data is transmitted using one or more appropriate compression techniques, so as to lighten the load on the network as much as possible. The use of these compression techniques, however, results in a delay (latency) in the required flow of information, which can be up to ten seconds. The delay produced, however, in most cases does not constitute a problem for those receiving such information as it is one-way, one-way. In essence, we do not notice it. 
Without going into the - obvious - advantages of streaming, let us therefore focus on the equipment needed to broadcast live.
To film a webinar, presentation or video-tutorial in real time, we will definitely need one, or more, camcorders for live filming and one or more microphones (wire or radio) for audio acquisition. To manage the various video signal streams from multiple sources we need a video mixerwhile for audio signals of a audio mixer. This is the most professional solution, as one might think of capturing both audio and video with a video camera and sending the signal via its HDMI output to the video mixer (which also handles audio, albeit in a much more simplified manner, which is why it is often called an audio/video mixer). However, for professional results, the first solution is the advisable one.
Once the two signals have been acquired and passed through the mixer, they are sent to a encoder. Encoders, which can be either software or hardware and even integrated in the video camera or mixer, compress the signal to reduce bandwidth occupation. Which, in the case of uncompressed video, is enormous. An example? An (uncompressed) FHD video at 1920 x 1080 @60 fps requires a bit rate of 2.98 Gbit per second! Add to that the audio, which in the case of a 2-channel PCM stereo signal sampled at 44.1 kHz with 16-bit quantisation requires about 1.4 Mbps, a pittance compared to video. Imagine in 4K...
Processors for live streaming
Processing such a large amount of data in real time requires a lot of computing power and this is where hardware encoders are a winner, because the processing is delegated to the encoder's processing chip and not to the computer's CPU as is the case when using Wirecast or OBS. Unlike the latter, therefore, hardware encoders for live audio/video broadcasts perform only one task, that of encoding our A/V signal, with a much less pronounced risk of freezing or crashing.
Once the encoding is done, the only bottleneck may be the network. Indeed, streaming requires a stable and fast connection, with sufficient upload bandwidth to deliver your data stream to the CDN (Content Delivery Network). Many companies that have had to resort to streaming out of necessity, especially in recent months, have been forced to revise their contract with their provider, switching to fibre or super fibre when available. For best results, the upload speed should generally be 2.5 times that of the bit rate of your A/V stream.
Finally, we mentioned the CDN. This is a public access point for streaming, a network of servers in different data processing centres around the world operating on a site to optimise loading times and make it faster to serve simultaneous requests for large images and videos from multiple clients. A standard Internet connection, however fast, could not accommodate a stream for a few hundred people: a CDN solves this problem by distributing its stream to a large number of users. The most popular free CDNs are the well-known Facebook, YouTube and Twitch.
Ligra's live streaming solutions
We have seen what types of hardware and software for live streaming are needed; within the Ligra catalogue we find a wide range of choices for all budgets. Here are some examples.
The camera Aver CAM520 Pro, among other features, offers the ability to share content directly to YouTube or Facebook. It provides RTSP/RTMP support via H.264 IP streaming compatibility for live streaming, remote camera control and settings management via the Chrome browser. Those who want to go even further, especially for use in TV studios or at live events, will find in the Aver PTZ310N its ideal working tool. The PTZ310N is an NDI®|HX camera; it complies with strict NDI standards to offer the lowest latency for camera control, switching and streaming via an IP connection. It makes live transmissions faster and simpler, allowing users to stream to larger audiences without complicated and expensive equipment.
An alternative to the Aver PTZ310N is the Lumens VC-A50PN. It, too, supports NDI technology and with a latency of less than 120 ms is suitable for live streaming; it adopts the MJPEG and H.264/SVC video compression formats, which reduce the bandwidth for video transmission. This technology also limits hard disk space during recording. An example of a very effective all-in-one device for handling not only A/V streams but also 1080p live streaming is the Lumens VS-LC200 . It is basically a 4-in-1 processor (i.e. 4 inputs and 1 output) that performs multiple functions: input selector, mixer, recorder and streamer. It supports 4 HDMI inputs and IP video sources including Lumens IP cameras and standard RTSP streams. It also handles audio, either embedded in the HDMI or analogue stereo signal with 4-channel mixer and gain control.
A simpler but equally valid alternative, offered moreover at a more affordable price, is the CYP IP-XTREAM-R. This device enables the transmission of live video with a locally stored archive. The video content, up to 4K, is automatically downscaled to a more appropriate resolution for efficient streaming. Due to its versatility, four individual streams can be created for different display hardware. 
Streaming video can be recorded locally (via SD card) or on a local network drive. An audio mixer function is included, allowing an external audio source to be mixed with the audio embedded in the HDMI source (LPCM 2.0 only). Comprehensive EDID management, an intuitive WebGUI and versatile audio features make this unit a powerful tool for video streaming and recording.
As far as encoders are concerned, we particularly highlight the Magewell Ultra Stream HDMI 53012 EU and SDI 53020 EU. The Ultra Stream HDMI 53012 EU is a small dedicated stand-alone box that features one HDMI video input, one microphone input and one headphone output. On the network side it features Internet connectivity via wired Ethernet, Wi-Fi and optional 3G/4G modem support. Wi-Fi allows the Magewell Ultra Stream HDMI 53012 EU to be managed from your mobile device, typically your smartphone. The device also allows you to record video to an internal solid-state HD or USB stick. At the end of the set-up process, which can also be done using a computer via a USB connection, the unit allows the user to select the desired CDN from Facebook Live, YouTube or Twitch.
 The Magewell Ultra Stream SDI 53020 EU differs in that it has SDI inputs.