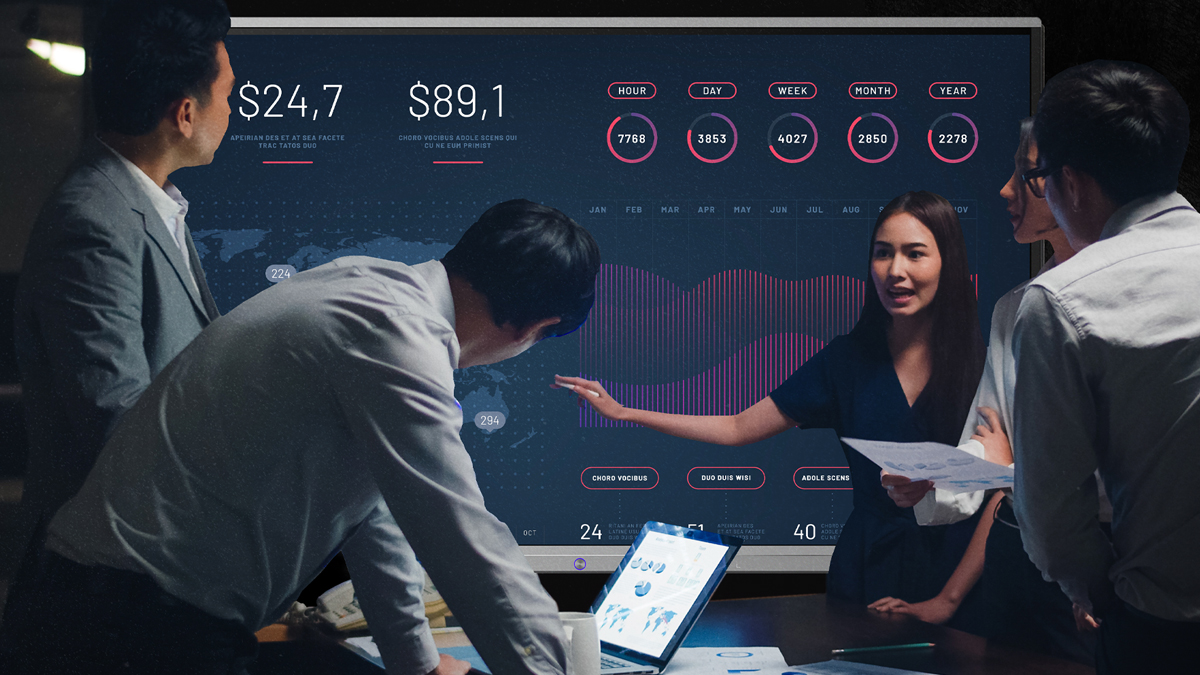 The rapid transformation we are witnessing in the working and, in general, collaboration environments has all the characteristics of a real revolution. Employees of companies, who were used to presentations with whiteboards and prior sharing of content during meetings, are now immersed in a world where technology is the master but at the same time can be frightening, because it implies a change for which not everyone is prepared or because it involves a level of knowledge that is not accessible to all. We think in particular of those who are no longer very young ...
However, those who are not intimidated by all this technology can consider solutions that can make this new approach painless. In organisations geared towards smart working and mobility initiatives based on shared projects, internal collaboration between staff and external collaboration between company and company (remote collaboration) has indeed become a hot topic, especially in recent times. The advent of the pandemic has greatly increased the processes of increasingly smart working, for which the requirement for flexible and remote environments has become essential. Professionals are increasingly inclined towards smart collaboration and expect to extend their digital lifestyle to professional technologies as well. The right approach to work with dynamic collaboration tools helps to increase productivity and inspire innovation.
La remote collaborationin particular, is an increasingly popular way of working in contexts where there is a need for immediate access to services and information, from anywhere in the world and by any means of communication or device.
The ABCs of remote collaboration
Remote collaboration can be defined as a practical solution to eliminate the geographical distance between members of a corporate team and also, as a consequence, a way to improve team spirit.
It contributes to creating a working environment that is not only innovative but also more serene among team members, especially since smart working has become a necessity.
Companies are increasingly using remote collaboration solutions to expand their activities: think, for instance, of the various branches of a company scattered around the world.

In addition, this working methodology also makes it possible to broaden the range of professionals and collaborators gravitating around the company itself, so that they can be reached much more easily, quickly and economically.
This approach also allows interaction with its customers, particularly in this period when visits are not allowed, or are allowed with many restrictions on movement for inter-regional or commune-to-commune travel.
Remote collaboration is made possible by specific hardware, together with dedicated software.
As far as hardware is concerned, we can start from a very common tablet to much larger monitors, what are called LFDs (Large Format Displays), up to 98" diagonal. Among these, interactive multimedia monitors (IFP), can expand their modes of operation through the integration of OPS Mini PC (Open Pluggable Specification).
An example of interactive multimedia monitors is the HELGI C Serieswhich offer 20 simultaneous touches and integrate the software licences Note, Capture and Screen Share Pro. 
These Mini PCs (of proprietary format) are inserted into a dedicated slot usually located behind or beside the display. This makes it possible to turn our professional monitor into a finished, ready-to-use computer without the need to configure video outputs, Internet connection and touch functionality.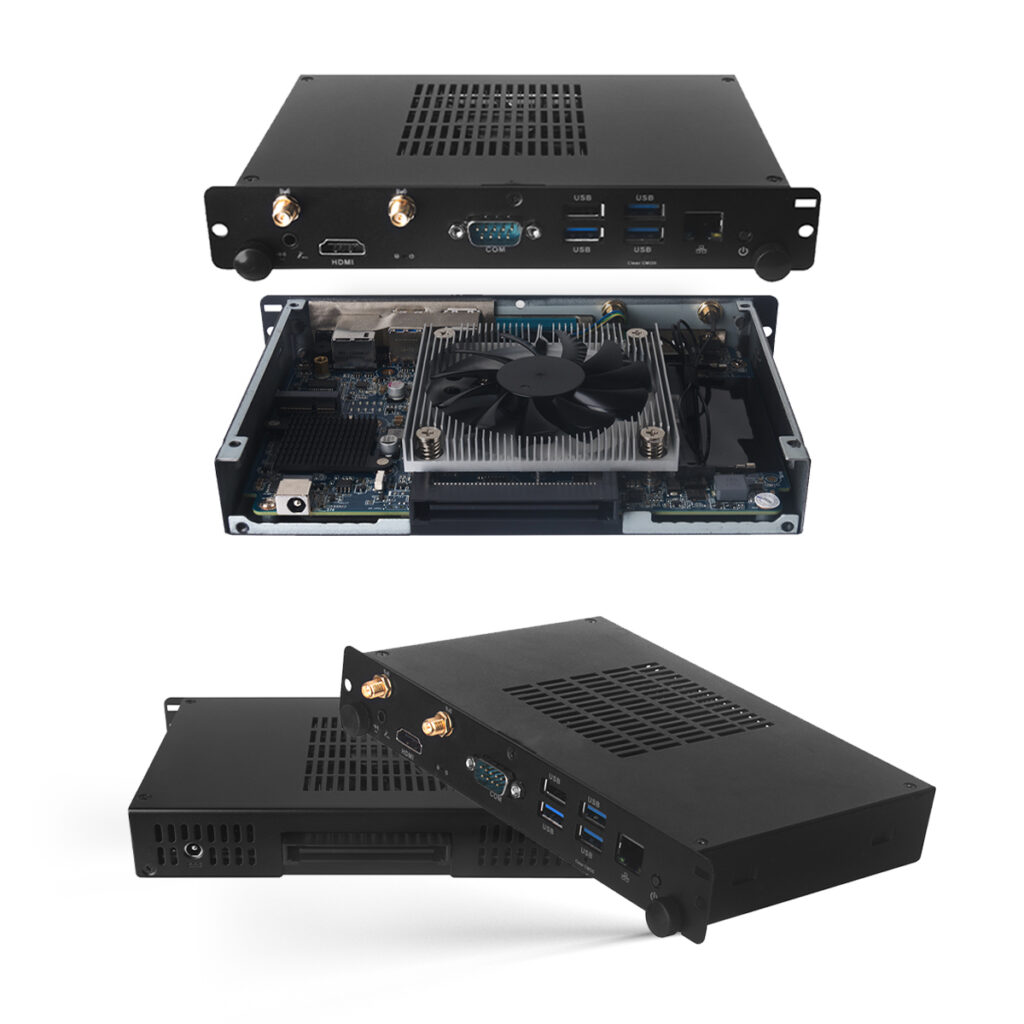 As far as dedicated software applications are concerned, there are already remote collaboration functionalities in Microsoft Teams, for example, which allow working on a shared whiteboard, or there are more specific software applications such as SMART TeamWorks.
The potential of SMART TeamWorks
The software SMART TeamWorks is an end-to-end visual collaboration solution designed to harness the power of interactive displays for fast, flexible and limitless collaboration.
SMART TeamWorks allows you to work on a shared whiteboard using interactive and professional tools, with the possibility to connect with your mobile devices (tablets, smartphones, etc.) or your laptop - all in one solution to expand your in-presence work during a meeting and/or remotely.
TeamWorks also allows the integration of Microsoft Exchange, conferencing solutions, wireless screen sharing (up to 8 devices) and the launch of various applications. It hosts a collaborative whiteboard session in which we can insert and share dynamic content (pdf files, videos, photos, web pages, etc.) in collaboration with meeting participants.
La Connected Edition allows participants on the same network, in the meeting room or office, to add notes and dynamic content to the connected whiteboard from any iOS, Android or Windows device. Finally, SMART TeamWorks is compatible with Windows 10, so it can work with any interactive display that has this operating system installed in the integrated OPS Mini PC or on your external PC.
BYOD and wireless presentation
BYOD stands for Bring Your Own Device. Many other similar approaches are grouped under this term, which broaden the concept of technology sharing between the personal sphere and the public-work sphere. With a BYOD policy, a company can allow employees to do their work on their own computers and smartphones, in and outside the office. BYOD policies were developed with the clear objective of increasing employee productivity and improving working conditions, based on the idea that an employee feels more comfortable using his or her own computer or devices that he or she knows best and uses every day. Furthermore, the application of BYOD makes working hours more flexible. It is clear that this type of approach goes hand in hand with collaboration, indeed it is a fundamental aspect of it. The employee can go to the company with his or her personal device and project, for example, his or her multimedia content directly onto a company monitor, so that the content is shared.
Projection is increasingly taking place wirelessly, and here we enter the very topical subject of wireless presentation. Wireless presentation is probably the hottest trend in meeting rooms today as every presenter, speaker or IT manager wants to free themselves from the tangle of cables that makes the whole setup more complex and messy. In that case, the benefits of wireless BYOD are quite obvious: the disappearance of cable clutter, time savings at the start of presentations and less worry about damaged or missing cables. But as more devices become available, choosing the right one for your meeting room, or collaboration space, becomes essential. The simplest form of wireless presentation connectivity one can adopt is a device that creates a simple, wireless connection between the display and the source, which is usually a laptop, but can also be a smartphone. This is exactly the task performed by Pulse Box.
Security, an issue not to be neglected
The biggest problem that arises from using one's own devices for collaboration in the enterprise lies in data security. For companies, security policies and access restrictions may require a solution that is synchronised with the existing network infrastructure. For this reason, it is important to consider the access policies and privileges that guest speakers must respect, including when accessing the Internet. Taking into account the constraints that may be in place on the network, it is important to choose the right solution for your organisation.