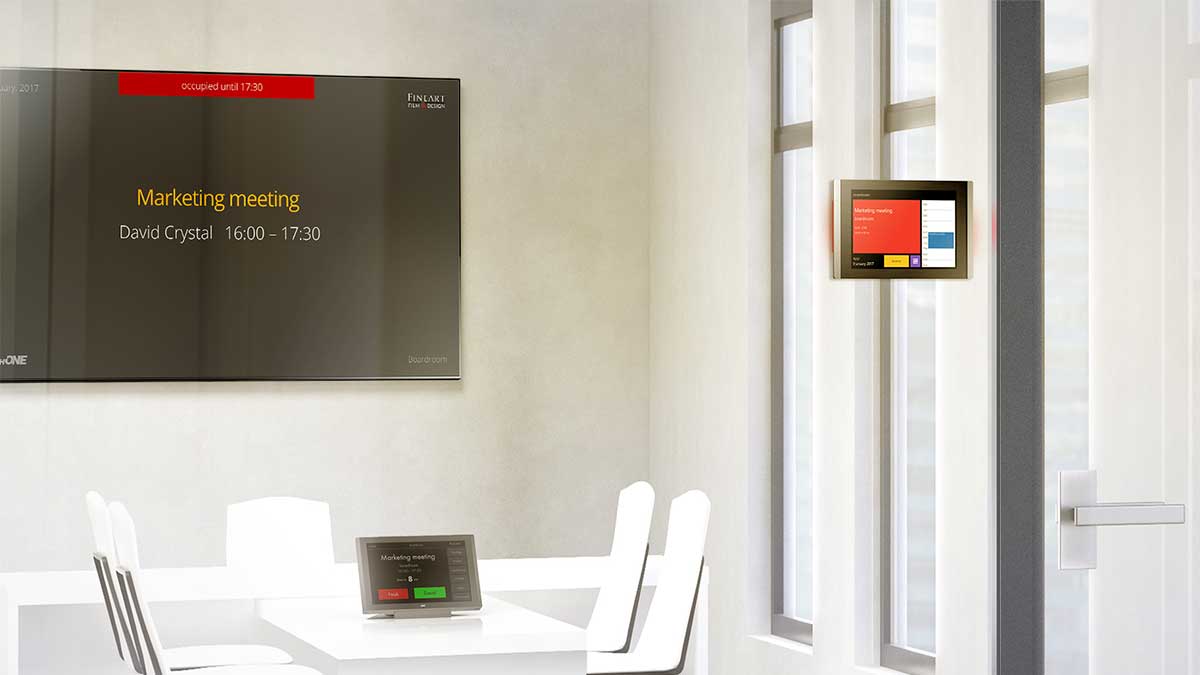 In recent years, there has been an ever-increasing need on the part of companies to manage the booking of workspaces in a simple and intuitive way: workstations, classrooms, offices, conference rooms in corporate environments, universities, hotels, sports centres and other meeting places, responding to the management logic of the staff themselves. Often, disorganisation problems can arise that affect productivity and time schedules. Among the critical issues that may hinder the organisation of a pre-planned conference, it may happen that a meeting room is already occupied, but without proper signalling, that there are new meeting accesses to be managed remotely, or that it is necessary to book multimedia devices or special services.
 The need to rely on an efficient meeting management system designed for today's dynamic, collaborative and flexible working environments has also developed as a result of the spread of coworking, i.e. the working model adopted mostly by freelancers, who make use of shared spaces in which they have autonomous workstations while interacting with other people. Born as a traditional office and readapted to fulfil the functions of a shared space, the coworking environment, however, needs a suitable management system to maximise the use of the available space, establish precise utilisation policies and guarantee control over the number of participants and their time spent in those spaces, facilitating the distancing required by COVID-19 security procedures.
The possibility of placing a touch display on any surface (wall, glass) in the vicinity of the room, enabling the organiser (or the user, perhaps by means of a special code) to book the meeting room, schedule meetings and activities and enter the participants in the meeting itself as easily as possible, is thus becoming an increasingly frequent necessity. In more complex systems, the touch display is only the final interface of a networked management system.
How does a workspace reservation system work?
The first requirement è no doubt simplicity. The reservation must can be done, as already mentioned, from a simple touch panel placed near the room, from a computer o dto a mobile devicethrough various applicationseven by those unfamiliar with the latest technologies.
This display shows the current status of employmentthe timing of the reservation and other options such as cancellation, extension or termination.  
In ajunta to the display touch, you can think about using an LFD monitor in the reception or atthe lobby for displaying the calendar and of environments liberi or occupiedia general summary of all bookings. 
The typical architecture includes a LAN/WAN to which touch displays are connected, i.e. the system interfaces, a computer for central administration and any mobile devices present, which can display the status of reservations and reserve them via an app.
The user interested in reserving a room or work space (which can also be a simple desk) need only follow this simple procedure:
Browse the calendar
Finding a free room
Make a reservation and, if necessary, modify it later, in real time
These operations can be carried out: 
T

ramite touch panel

as already described, 

o 

possibly 

multimedia totems

/

display 

interactive

 

D

to your mobile device (mobile phone or tablet)

 

D

to a computer 

via, for instance, the Outlook calendar

 
Such systems, as mentioned, must be Plug & Play so that they are easy to install, efficient and safe.  
Apposite analysis and statistics software allowsono to countfor example, the number of meeting in a given period of time, the percentage of premises utilizzati out of the total of those availableduration of all meetings in one day (actual and planned), the average duration etc. and other information that may be of use to the operator of the structure. In essence, they allow the monitoring of all aspects of meetings and planning of any associated services. These information may also be available via a multilingual interfaceas in the case of CUE systems.
The advantages of room reservation systems
The ability to easily search for and book a workspace tailored to your needs, without paying for something you don't need and without surprises due to the possible lack of A/V equipment needed for that particular circumstance. Using advanced search tools, it is possible to search for the meeting room with the best features and equipment according to the meeting to be planned.
Enabling 'agile' working, so that employees can reserve work space for themselves to meet new business and internal organisation needs.
Greater efficiency due to the reduced number of fixed workstations the experience improves, resulting in shared spaces.
Have access to detailed reporting, as it is possible to find information on the number of bookings made and to know how many times a specific equipment was requested (number of seats, A/V equipment for the conference and more).
Immediate use, no special knowledge required.
Integration with Outlook, Microsoft Office 365, Microsoft Exchange Server, G Suite.
A variety of applications for all needs
The systems for reserving rooms are adapi not only at offices, companies and sports centres, but also for chains of hotel e alberghi, as they satisfy the need to book and manage rooms meeting easily present within them, even remotely, the display of occupied room and directorate information e the publication of updated content on a display, or a network of displays. 
What is a hotel, a large company or a'organisation with numerousi spaces to be used and managed for meetings of work, these systems are the ideal room solution bookingand in particular thestability and scalability of ao such as touchONE of SES consente to use dozens of touch panels that can be interconnected with the main panel, e.g. at reception.  A example important d'installation is in Microsoft's new building at Czech Republic, where CUE manages the entire reservation system for dozens of rooms.