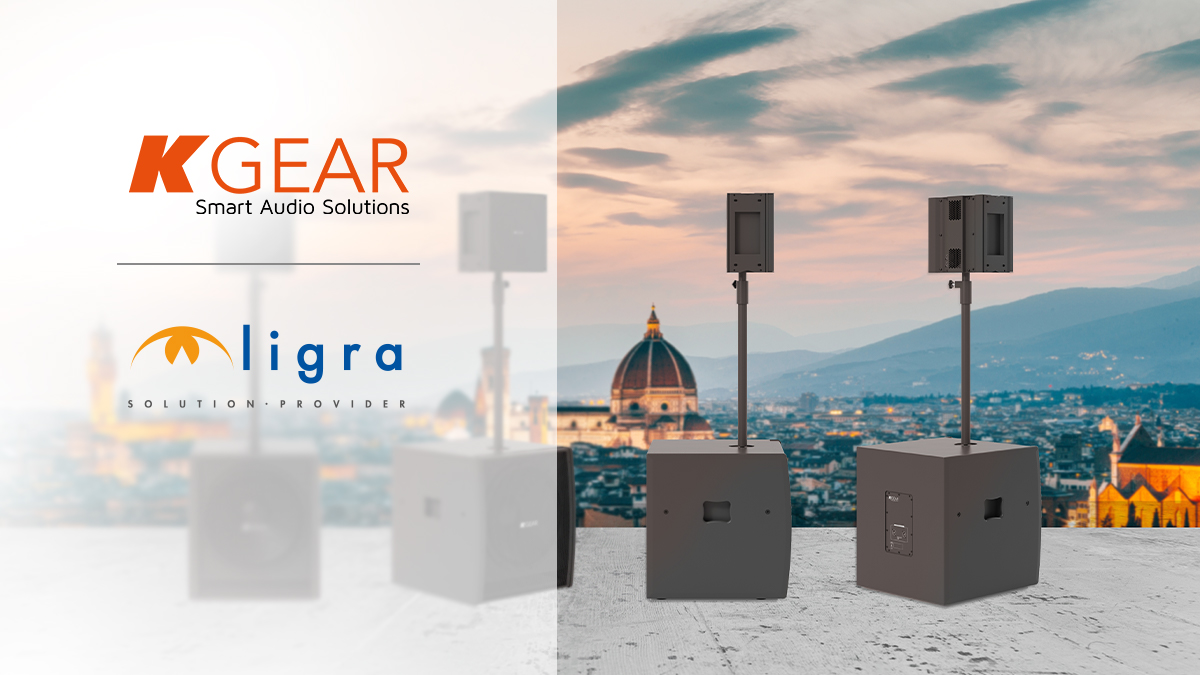 Ligra DS is pleased to announce its partnership with KGEAR for the distribution, on the Italian market, of its line of professional acoustic loudspeakers and amplifiers for live music events and entertainment (PA systems), the conference environment and installations in venues such as auditoriums, theatres, restaurants, bars, gyms and places of worship where audio quality is paramount. Based on technologies developed by K-array over the last 30 years, KGEAR products are a pride of the made in Italy and offer excellent value for money.
In general, PA audio systems (initial of Public Addressor even Public Announcement) identify a wide range of loudspeakers and related subwoofers used for musical performances, from outdoor to indoor live events, in environments of various sizes, typically for rental or touring, but also for fixed installations. KGEAR has a complete range of products for these applications, both active and passive.
GPXA is an acoustic loudspeaker system consisting of an amplified subwoofer (GS218) with two 18″ drivers combined with a high-efficiency passive array consisting of four 12″ coaxial loudspeakers (GH12). It adopts K-array's proprietary PAT® and SAT® technologies. Thanks to a Powersoft™ DSP class D amplifier module integrated in the subwoofer and the Armonia™ control software, it can drive a passive GPX system in stereo/dual mono. The cabinet is weatherproof. Designed for high-performance outdoor/indoor applications for both rental and permanent installations, it is suitable for large auditoriums, stadiums, theme parks and clubs. The GPX is the same version but with a passive subwoofer (same passive array for the mid-highs); it can be driven either by the amplifier contained in the GPXA, or by the final amplifiers GA43 e GA46.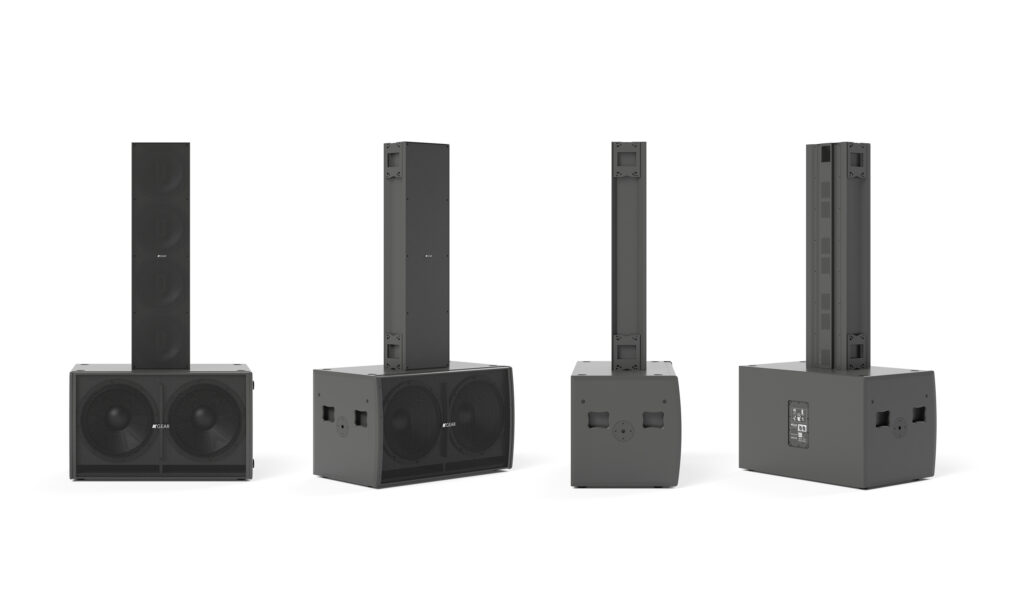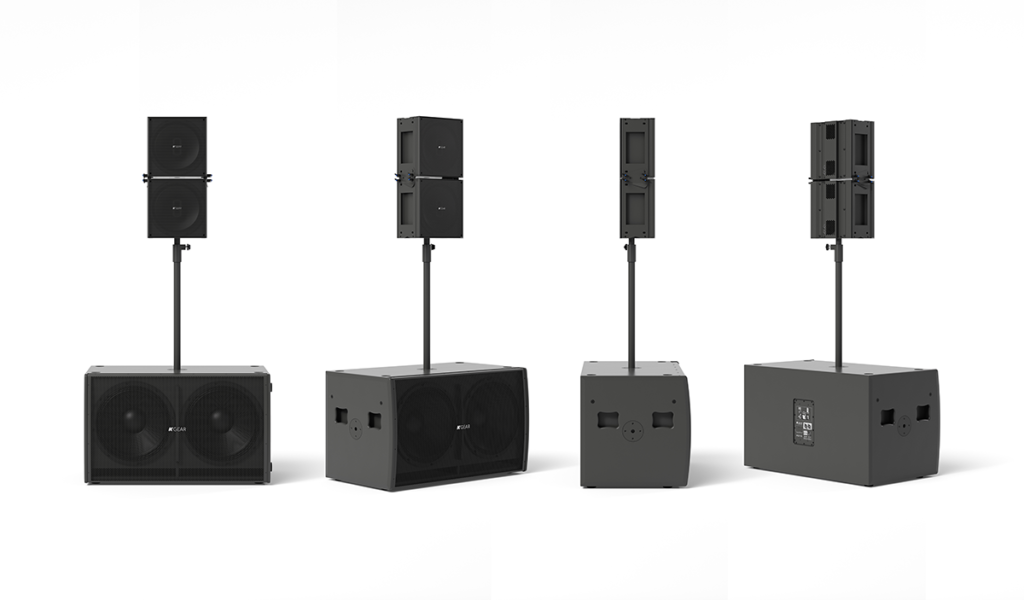 GPZA e GPZ represent a variant of the GPX systems described above. The difference is the mid-high satellite, which in this case is a passive array with two 12" coaxial drivers (a pair of GH12s) instead of four. A special stand allows it to be positioned at the correct height. It can drive a passive GPZ system in stereo configuration.
 In practice, the class-D amplifier contained in the GPZA's 4 x 1500 W subwoofer drives both the sub itself and the GPZ's second sub plus the pair of passive satellites. On the subwoofer are all the necessary audio controls, including an Ethernet port for setting the DSP parameters via ArmoniaPlus software.
Third version of the KGEAR systems for PA use. In this case, the subwoofer (GS18) uses a single 18" driver and the satellites a single 12" coaxial driver (GH12). 
GP1812A allows as many as three equivalent passive systems to be connected in a dual stereo configuration, thanks to the amplifier contained in the GS18 subwoofer (the same as that used in the 2×18″ subs), so it can equally drive a pair of individual subs or their satellites for each channel.
 The application range is the same as the previous models, but the continuous SPL drops to 117 dB compared to 128 dB of the GPXA and 125 dB of the GPZA.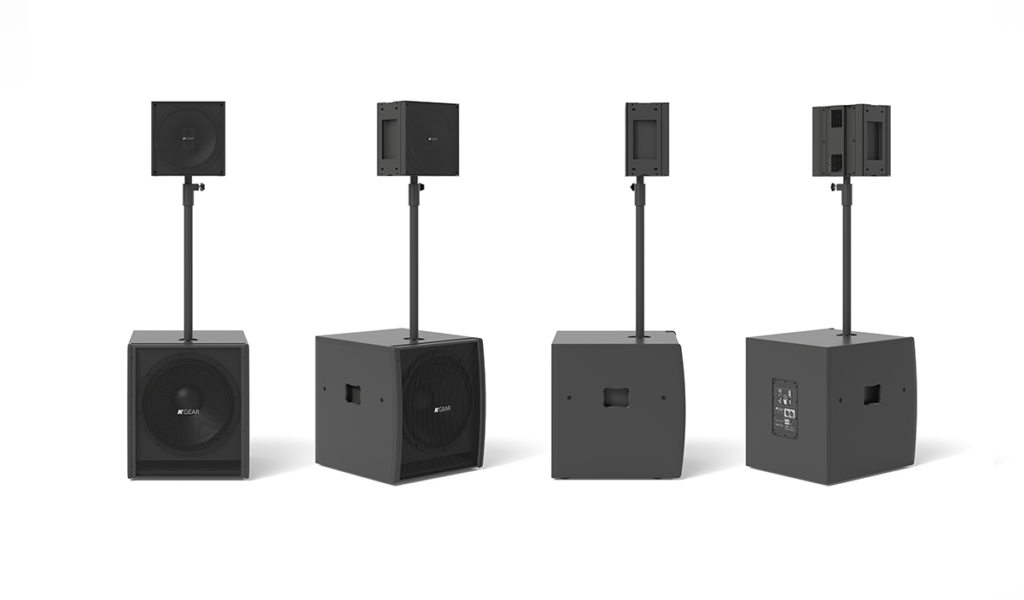 Column systems with/without subwoofer
Column loudspeakers have enjoyed incredible success in the last few years in many application areas. This is because they are true vertical line arrays (at least within a certain frequency range), i.e. loudspeakers consisting of a number of loudspeakers, stacked vertically and aligned, which operate as a single sound source by summing their emissions in a coherent manner. The interesting aspect is that the vertical coupling of the modules generates cylindrical and not spherical waves, which travel much greater distances, with the added advantage that the sound pressure loss is 3 dB at a doubling of the distance from the source, instead of the 6 dB of point source systems.
18" amplified subwoofer combined with 3 stacked passive modular elements, each containing 8 2" transducers with PAT® K-array™ technology. It can drive a GP18 passive system in stereo configuration. Features Powersoft™ DSP amplifier module, Ethernet remote control and Armonia™ control software. 
Designed for outdoor/indoor environments, both for rental/touring use and permanent installations, it is also particularly suitable for live music, in auditoriums and clubs. Characterised by high vertical directivity, useful for not creating unwanted floor and ceiling reflections, it offers excellent performance in relation to size/weight and quick and easy set-up.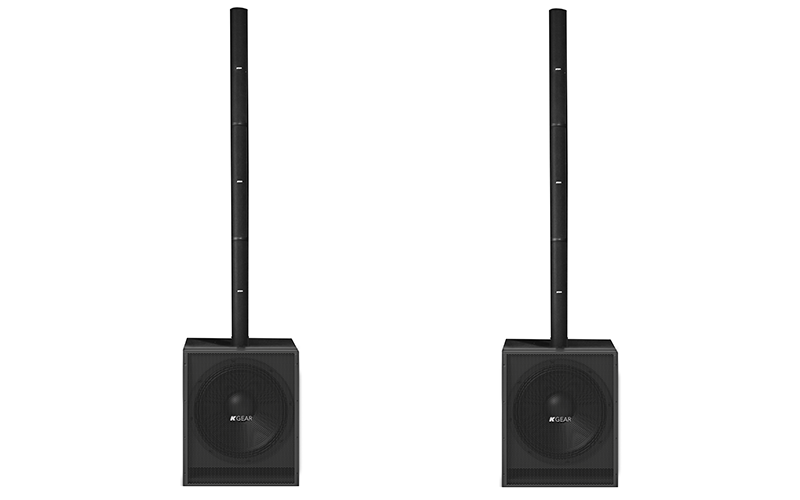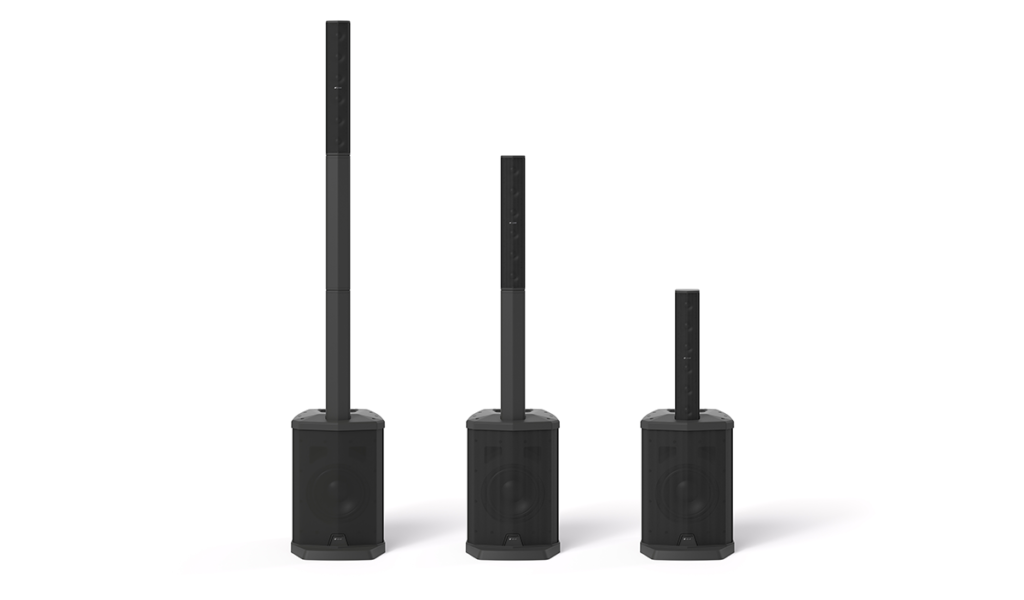 Active PA column system with 8″ amplified subwoofer and 3 stackable modular column elements of which one speaker with four 2.5″ loudspeakers and the others stand to adjust the height as required.
An array based on PAT® K-array technology, designed for discrete outdoor/indoor applications, both for rental and permanent installations and dedicated to musicians/DJs as well as for use in the conference environment.
It features 2 MIC/line inputs, a stereo AUX input, Bluetooth connectivity and a USB MP3 player. High performance in relation to size/weight with quick set-up possibilities, ready to use.
These two column loudspeakers, aesthetically identical, are actually based on different technologies. 
GF22 is a passive full-range loudspeaker employing a pair of 2" drivers. Designed to be installed with its own bracket directly on the wall, it is well suited for outdoor/indoor applications in permanent installations, for music and speech, in meeting rooms, hotels, bars, restaurants, shops and in residential areas. Good performance/size ratio (only 59 cm high). The recommended amplifier is the GA201 from the same manufacturer (up to 8 speakers per channel, as their impedance is 16 ohms and the GA201 can work with 2-ohm loads). The model GF82, is instead a passive line array, it employs eight 2" loudspeakers and is based on K-array's PAT® technology. The applications are the same as for the GF22, obviously the maximum power handling is higher (100 W continuous instead of 25). In this case the recommended amplifiers are the GA201, GA43 and GA46.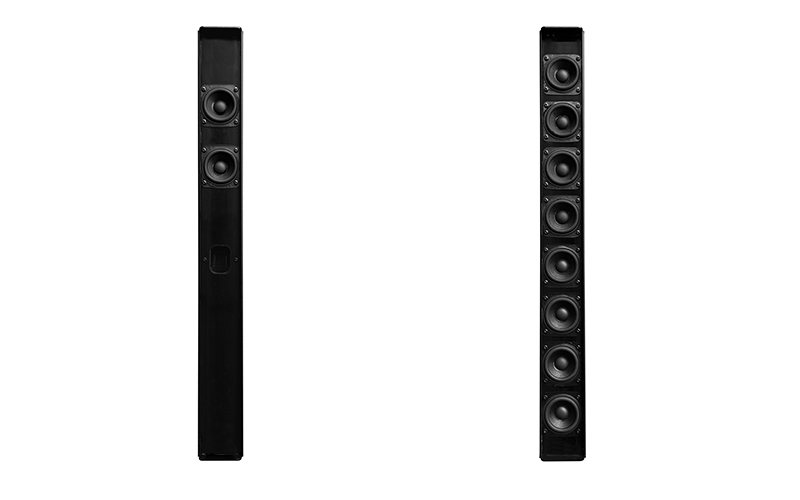 Installation loudspeakers
KGEAR offers a line of passive installation loudspeakers that also includes a subwoofer. These speakers belong to the GF series and are available with 4" or 6" drivers and in black and white.
Two-way passive loudspeaker with 4" woofer and 1" tweeter, ABS cabinet, designed to be placed on a shelf or with its own bracket directly on the wall. Suitable for outdoor/indoor use for music and speech reproduction in conference rooms, hotels, bars, restaurants and shops. With a good performance/size ratio, it is easy to install. Recommended amplifiers are the GA201 (up to 4 speakers/channel @ 8Ω) or GA43/GA46 (@ 70 V and 100 V).
Two-way passive loudspeaker with 6" woofer and 1" tweeter, ABS cabinet, same design and fields of application as the GF4 but with a maximum power handling of 40 W instead of 20.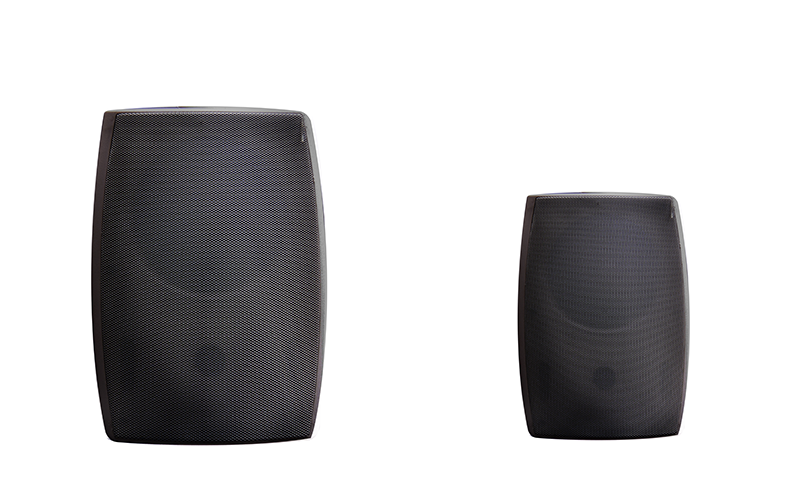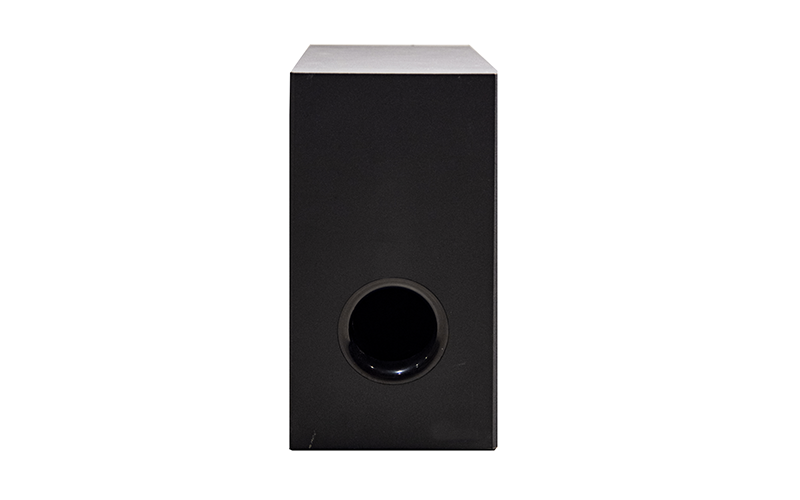 Subwoofers GS6 passive with 6" driver, 4 ohm impedance, designed for indoor applications in permanent installations for retail shops, restaurants, hotels, pubs, disco bars and in residential areas. 
Its symmetrical load design and built-in low-pass filter allow direct coupling with the respective satellites for bass reinforcement. Recommended for use with the GA201 stereo amplifier. Black colour.
Power amplifiers with and without DSP
Alongside its line of loudspeakers, KGEAR offers five power amplifiers suitable for driving its passive models. These are compact 4/2-channel, high-efficiency power amplifiers based on Powersoft power modules. They are also capable of driving 70-100 V lines without transformers or additional settings. Thanks to their modular design, three amplifiers can be inserted into a 2U high 19" rack with a dedicated adapter. Models with Powersoft DSP are remotely controllable via Armonia Software Plus and Ethernet connection.
GA46 - 4 x 1500 W power amplifier with DSP
GA46L - 4 x 1500 W power amplifier
GA43 - 4 x 750 W power amplifier with DSP
GA43L - 4 x 750 W power amplifier
GA201 - 2 x 125 W power amplifier (the compact design of this model allows up to 6 elements, corresponding to 12 channels, to be fitted in the space of 1U rack 19")