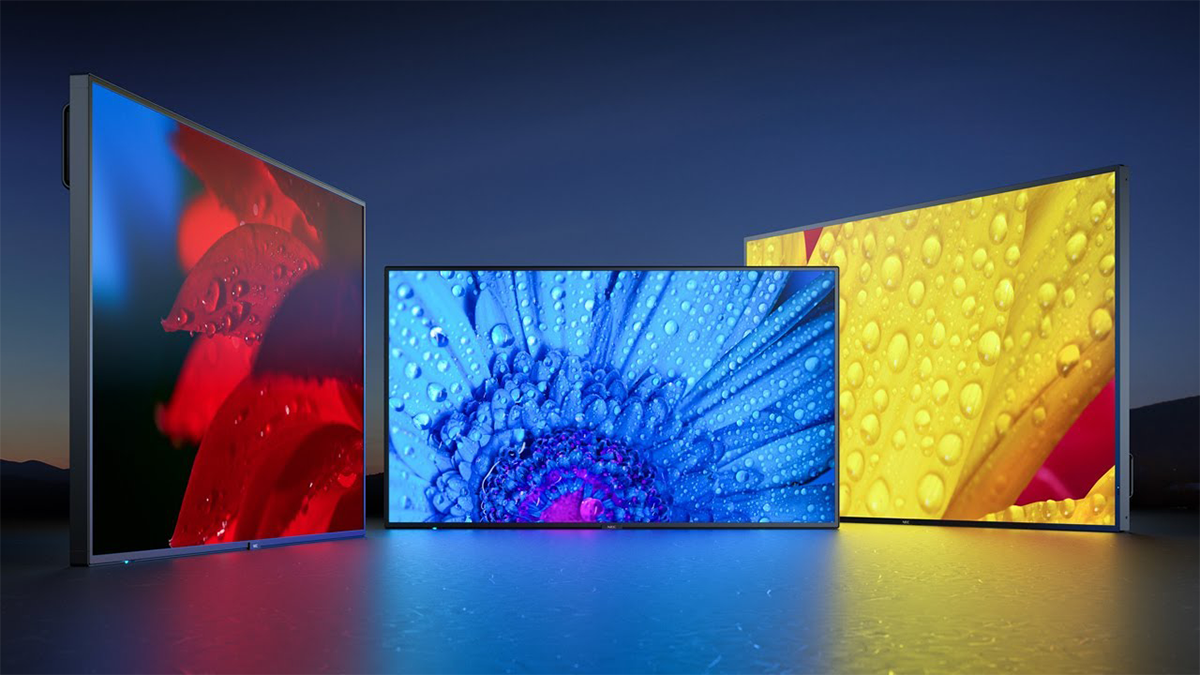 The 'made in Japan' quality, longevity and reliability associated with NEC's MultiSync brand gives rise to a new line of products for digital signage, conferencing and retail called MessageIt is divided into three different series - Essential, Mainstream, Advanced - according to the specific needs of end users. A total of eleven models, from 43" to 65", with the common denominator of image performance - high brightness and contrast, vibrant colours and deep blacks - and the proven technology that has always distinguished NEC products.
NEC MultiSync ME (Essential)
The ME series, with sizes from 43" up to 65", is ideal for conference rooms or retail environments. Thanks to a clean, straightforward design, also emphasised by its slim bezels, native 4K UHD resolution and the possibility of choosing different input sources, the ME series Plug & Play displays are perfectly suited to the needs of smaller retail outlets, museums, hospitals or other public places, as well as conference rooms.
This series of monitors is designed for commercial use, resulting in products with a much longer lifespan and a better return on investment than a normal TV converted for professional purposes. Faced with limited budgets or indoor signage needs, it happens that the choice falls on an ordinary TV, without thinking about the amount of super work it will be subjected to and the costs that this solution may entail in terms of lack of reliability, with often disappointing results. Only professional-quality monitors are able to deliver reliable performance; the ME series paves the way for low-budget business operators to upgrade to professional digital signage, without requiring specialist expertise.
The integrated MediaPlayer offers native UHD resolution and a high dynamic range for clear communication and accurate viewing. The integrated scheduler enables automatic switching on, off and playback of content: no cables or external devices are required, although there is a USB interface should you need it.
Another strong point of this display series is its extreme user-friendliness. In case of impromptu meetings, inputs are automatically detected. On the one hand, facility managers will be pleased to be able to remotely control their digital devices via the data network thanks to an integrated LAN port and NEC NaViSet Administrator 2 software. On the other, end users will be able to attend meetings immediately without having to spend time configuring the device.
With products capable of operating in horizontal or vertical orientation and continuously for up to 18 hours, local merchants, shops and small businesses will be able to provide their customers with dynamic advertising and infotainment, benefiting from the advantages of digitisation.
NEC MultiSync M (Mainstream)
With an LCD panel designed to reduce reflections when the ambient light is intense and modern styling for discreet integration into any application and environment, the M Series monitors are professional tools to get your message across, at an affordable price. With the optional NEC MediaPlayer or the powerful Intel® Smart Display Module (Intel® SDM), you are ready to create intuitive signage, real-time multimedia playback.
Lhe M series provides powerful and upgradeable functionality and adapts to advertising, infotainment and meeting room.  
Remote managementwhich allows you to securely control your devices using NEC NaviSet Administrator 2, including maintenance, saving time and resources;


24/7 operation with maximum security. 

The careful selection of electronic components and careful design, focused on the most popular use cases, guarantee the viewer a seamless experience;



Future-ready connectivitywith various digital and analogue inputs according to industry standards for flexible integration into AV infrastructures. In particular: 2 x HDMI (HDCP) and 1 x DisplayPort for digital A/V, 1 x USB 2.0 (MediaPlayer), LAN 100 Mbit and RS232 for input control. In addition, there is an analogue audio output on a 3.5 mm jack connector;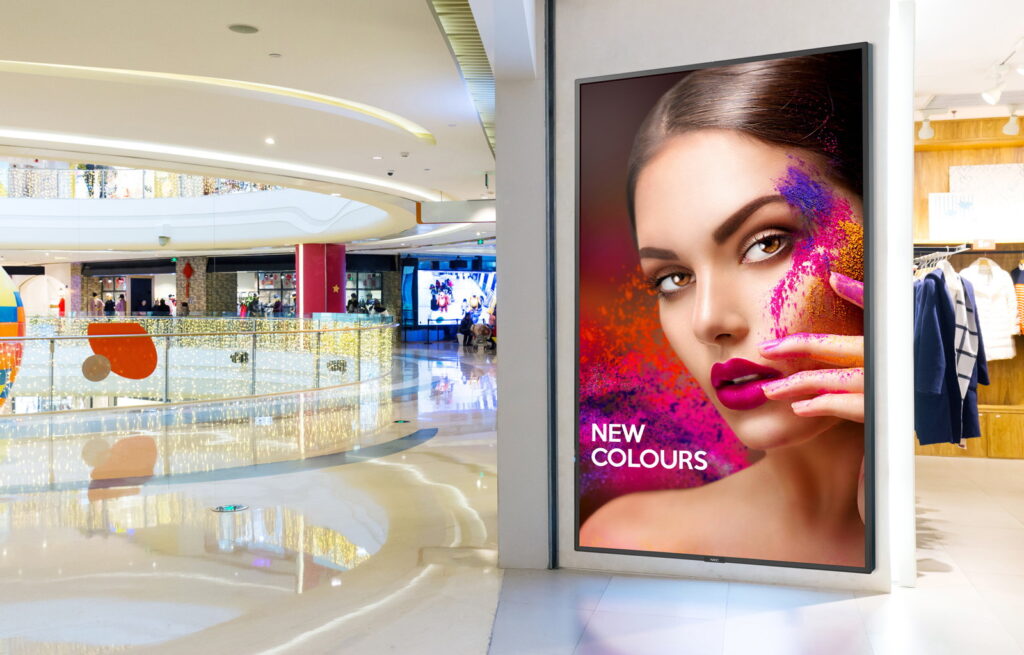 Regarding the display, there are four sizes available: 43", 49", 55" and 65", IPS panels with direct LED backlighting for a contrast ratio of >8,000:1, a viewing angle of 178° horizontally and vertically and a response time of 8 ms.
NEC MultiSync MA (Advanced)
Compared to the previous two, the special feature of the Message Advanced series is undoubtedly its colour fidelity. For specialist applications, in fact, the panel's wide colour gamut (Gamut, 86% of DCI), SpectraView engine technology and 8K signal processing (the panel's native resolution is 4K, but 7680 x 4320 pixels on digital inputs is supported), make the MA Series a top-class solution for the reproduction of professional content for corporate signage and premium retail applications. The modular design of the MA Series includes Intel® Smart Display Module (Intel® SDM) technology, simplifying the faithful reproduction of multimedia content for more intuitive signage creation and presentation.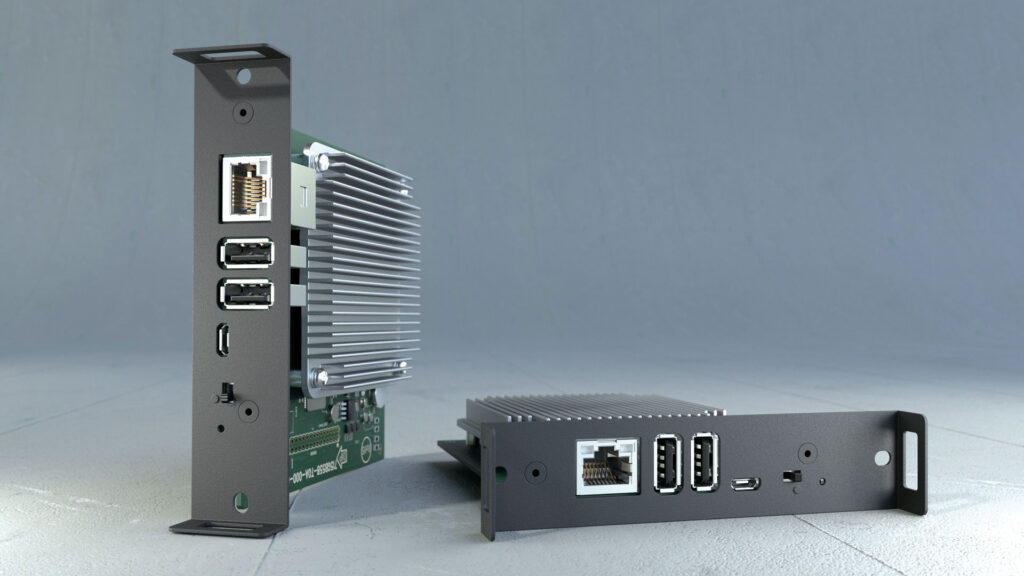 As displays become thinner and energy-efficient performance more critical, Intel is proposing Smart Display Module (Intel® SDM) that offers the same level of intelligence and interoperability as Open Pluggable Specification (OPS), but in the smallest form factor available today, which eliminates bays and allows for the evolution of thinner integrated displays, such as the NEC MA.
Many features distinguish these monitors: improved daisy chaining capabilities, multi-image mode (with even the possibility of having different colour settings on each image separately), extensive modularity thanks to Raspberry Pi CM 4 and Intel SDM slots, input detection functionality (allows the customer to prioritise up to three inputs so that if a primary source fails, the display automatically switches to the next one according to priority), thermal sensors, etc.
 Finally, a final aspect to consider is robustness, made possible by the all-metal frame and rear cover, which also benefits safety, indispensable for professional applications while maintaining attractive aesthetics.
The NEC MA series boasts a brightness of 500 cd/m², which is ideal for most high-end digital signage applications in the enterprise, entertainment, collaboration, retail, museum displays and command/control centres.
The diagonal dimensions are the same as those of the M series models, with the exception of the 65" which is not available.