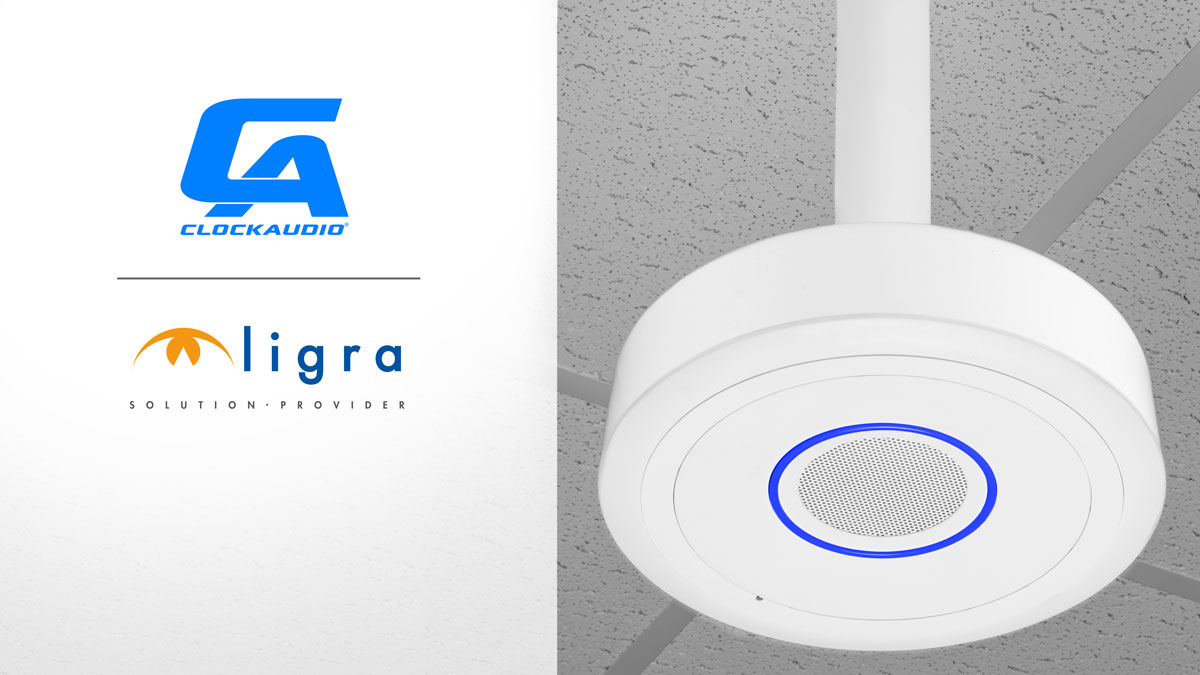 Ligra DS has signed an exclusive distribution agreement with Clockaudio, a British company founded in 1994 by a team of specialists with several years of experience in the design and production of innovative professional audio products with a solid worldwide reputation. These products mainly include microphones for all kinds of applications - goosenecks, microphones for overhead installations, modular microphones, handhelds, headbands, shotguns - wireless transceivers (transmitters/receivers), Intercoms, headsets, mixers, tour systems, etc.
The company is renowned for its solution-focused approach based on customer feedback and consequently its ability to customise solutions for seamless integration both technically and aesthetically with the environments in which the various products will be used.
 At the heart of it all is a recently expanded in-house product research and development structure that allows customers to test custom prototypes and develop new ones in cooperation with Clockaudio. With this partnership-based approach, Clockaudio primarily targets system integrators and installers, offering the opportunity to be involved in the study of the best solution for the end customer.
TIM-1000: the intelligent tracking microphone
Thanks to its features, the TIM-1000 microphone was declared 'best new audio product' at InfoComm 2019. Designed for use in AV conferences and meeting rooms, it offers a performance that is difficult to match thanks to the automatic tracking of participants within the room, who can then move around without feeling tied to a certain position. Based on APT (Adaptive Proximity Tracking) technology, a noise suppression system and a built-in equaliser, the TIM-1000 captures sound in the most effective way. Integration within a Dante® network and with other third-party controllers makes the TIM-1000 the ideal microphone for any type of conference.
These are its main characteristics:
Track the meeting participants within the room 

APT technology for the best possible sound performance 

Eliminates unwanted noise in the background, e.g. air conditioning, video projectors 

Integrated equaliser 

Supports Dante® and AES 67 

GUI via standard web browser 

Powered over Ethernet (PoE+), IEEE 802.3at 

Separate data and control paths for increased security 

API commands via UDP 

Easy configuration and installation 

Available in 2 models for ceiling mounting (TIM-1000-CM) or pole mounting (TIM-1000-PM) 
In addition to the TIM-1000, a wide range of ceiling-mount microphones is available, divided into two groups: hanging/suspended or attached to the ceiling itself. The CCRM 4000, in particular, is a three-element motorised microphone with three cardioid polar diagrams and 360° coverage for meeting rooms, conferences, courtrooms and other similar venues.
The CDT-100 provides Dante® connectivity with 4 microphone inputs, phantom power and separate Dante® stream for each microphone.
A complete set of gooseneck microphones
The condenser ones, equipped with a cardioid polar pattern, are available with a fully flexible, semi-rigid (one rigid and one flexible part) and rigid arm. Lengths range from 100 mm up to 700 mm with various connector options, from mini XLR to XLR, or even without connector.
The Halo series, on the other hand, comprises microphones equipped with an LED light ring (Halo Ring) to signal, for example, the opening of the microphone itself or any other type of signalling programmed by the director. The 5-pin XLR-M connector, used on a mono microphone as in this case, uses precisely 2 of the 5 pins to supply the DC voltage to power the LED.
As mentioned above, gooseneck microphones also include dynamic microphones, designed for speech and therefore with a cardioid polar pattern, of which the DMB 1 / DMB 2: Desk Paging microphones are also a part, simple but effective for use in all kinds of industrial, commercial, entertainment and retail applications.
Boundary microphones, also known as pressure zone microphones, consist of an omnidirectional (with a semi-spherical polar pattern, to be precise, as the emission below is cancelled) or cardioid microphone capsule and are mounted flush with a surface, typically a conference table, or on top of them. The Clockaudio range includes models... The Clockaudio range includes: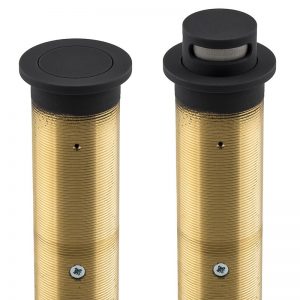 Cardioids and omni to be installed flush with the table. In particular, the ARM series microphones are motorised (or manual).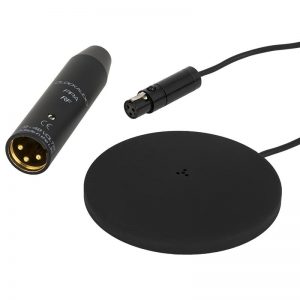 Cardioids and omni for placement above the table, intended for those who want to simplify installation and positioning while sacrificing something in terms of design
Modular microphones for all kinds of applications and handheld microphones
Clockaudio modular microphones include, in addition to the microphone itself, stands and poles that are easily interchangeable between models to offer maximum flexibility in a wide range of applications including broadcast, conference rooms, houses of worship, leisure centres, etc. The body is made of brass with a black satin finish. These include cardioid, hypercardioid and even shotgun condenser microphones, as well as a more economical cardioid dynamic microphone optimised for speech. 
Clockaudio has provided two series of radio microphones for the European market: CW 7000 and CW 7001. The CW 7000 series comprises a True Diversity receiver, i.e. based on two independent RF modules for a more stable reception, with (up to) 1441 selectable frequencies in 6 groups (maximum 22 channels in one group) and two transmitters, one handheld and one bodypack (with CL 6 capsule included) with powers between 10 and 50 mW to comply with European standards.
Even more sophisticated are the 8000 series receiver and transmitters, which make up a UHF PLL True Diversity system with a declared coverage distance varying from 200 to 480 m depending on RF transmitter power and antennas, which are part of the accessories supplied by Clockaudio. In this case the selectable frequencies range from 2400 to 3000 always in the 502-960 MHz range and, note, there is an auto-scan function to search for free ones.
These systems are used in all situations where verbal communication is only necessary between two or more people at a given time. Whoever is talking on an Intercom channel is talking to all the users of that channel, so two different channels cannot communicate with each other. Clearly, in certain environments, from the military to television production centres, Intercom is irreplaceable, but it can also be used for banks, post offices, nursing homes, reception areas, showrooms, and in general in all those situations where several people need to communicate with each other in particular areas where there is a security barrier. 
For this reason, Clockaudio wanted to reserve part of its extensive catalogue for these devices, with a product line ranging from MIC + speaker and induction amplifier combinations (staff side) to speakers, microphones and bridge bars (customer side).
Headbands, Headsets and Lavalier Microphones
In many fields of application (conferencing, TV or theatre shows, fitness), headbands and headsets (headphones with microphone) are used, while in the direct taking, but not only, Lavalier microphones, the miniaturised ones that can be installed under clothing in an almost invisible manner, are used. Clockaudio produces various types of headbands with omnidirectional electret capsule, which are extremely light, flexible yet robust.
Headsets use closed headphones for greater isolation from external noise and thus protection of the user's ear and dynamic or electret condenser microphone.
Finally, the Lavaliers are of the electret condenser type with an omni-directional capsule and come with a range of accessories such as windproof sponges and clips, in black or beige. They are powered at 5 V directly from the bodypacks, but you can use the Clockaudio PPA adapter for 48 V Phantom in case you want to connect them directly to the mixer.