The purchase of a wireless collaboration system for business meetings, or for educational use in a university environment, should be finalised very carefully as neglecting any security aspects or integration into the corporate network could have negative consequences for the investment.
The ICT manager normally provides users with an infrastructure of networks and services that offers the possibility of carrying out this activity in person or remotely.

Features and requirements of wireless collaboration:
Multiple users must be able to access the service
Activities are in real time, so that work done on a file can be reused instantly by other participants
Dissemination must be on a global scale and with remote access
Several people must be able to access and modify the same resource at the same time, i.e., accesses must be 'concurrent'
The interchange of files, the possibility of working on them at the same time, perhaps saved on a remote server, and the possibility of communicating even in real time by means of special programmes, makes it easy and economical to collaborate online, provided that certain important factors are taken into account beforehand.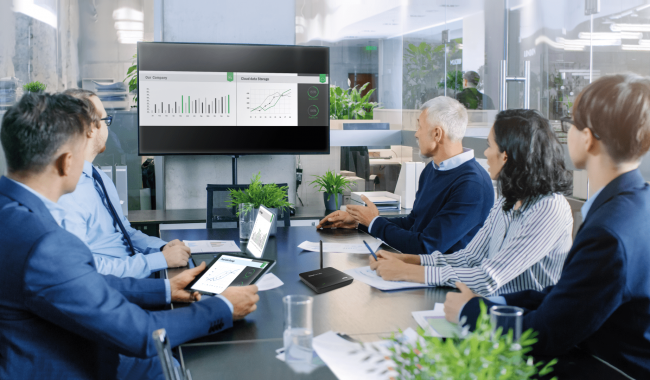 This is one of the fundamental aspects to be taken into account in order to avoid participants becoming impatient before the meeting even starts. Everyone must be able to connect and collaborate easily, without requiring any specific hardware/software knowledge. To ensure this, the system should have multiple connection modes, using a software app, mobile app, web browser or USB device to initiate the wireless connection.
Although the operating system used internally is known, when it comes to guests, a solution compatible with all the main O.S. available, such as Apple's macOS, Windows or Linux, must be envisaged. How to foresee the fact that the guests themselves will be equipped not only with laptops, but also - and especially - with mobile devices such as smartphones and tablets. This is why the wireless presentation system must offer the convenience of the BYOD approach that makes connection easy, even using Airplay, Miracast or GoogleCast.
A system for wireless collaboration must be both versatile and user-friendly: if the user experience is not up to scratch, even the most advanced system will be a failure.
From the moment of connection to the eventual change of presenter, all procedures should be intuitive. The ideal system should also support multiple presenters so that no time is lost in switching between them.

In terms of versatility, the four-way split screen, multi-participant connection (up to 64) and on-screen annotations from the presenter's device are just some of the features one expects to find on the latest wireless presentation and collaboration systems.

Before purchasing, check what your needs are and make sure that the system you are considering can meet them.
Management and scalability
For the technical team in charge of managing the system, knowing that it can be easily integrated with any existing network is already a good starting point. However, even more important is the possibility of remote management. Indeed, the system administrator must be able to keep all key components under control from a single remote location.
Another important requirement is scalability. The ideal system must be able to grow according to the needs of the company and not be a closed system with no possibility of expansion.
Network security and vulnerability are hot topics in wireless collaboration, because if a system is not secure, the integrity of the network and data can be compromised, which is why more than 40% of companies with more than 50 employees put network security among the top areas to invest in. The growing number of heterogeneous connected devices, also as a result of the BYOD (Bring Your Own Device) approach whereby companies allow their employees and collaborators to bring their own devices such as smartphones, tablets and notebooks into the workplace, requires the implementation of simple, intuitive and universal but above all secure interactive systems.
The corporate network should not be accessible to just anyone; to prevent potential hackers from accessing it, each user (and each device) must be recognised. The management and monitoring of user access to the infrastructure is indispensable in order to have an overview of authorised devices and to be able to block those not in line with company policy, or to allow limited access. The possible integration with WPA2/WPA3-Enterprise, SSL, certificates and proxy networks to adapt to one's own security protocols is certainly an aspect that should not be overlooked, as is the Dual Network architecture, which allows guests to be separated from employees. This is a wide-ranging topic, which requires attention to be focused on two further aspects: encryption and the possibility of secure downloading by the user.
Regarding the first, the wireless network and collaboration system must use robust and reliable encryption, e.g. AES-256, which is (almost) impervious to external attacks. Regarding the second, many organisations adhere to strict security protocols that prohibit any downloads and prevent employees from using USB ports to upload, or read, data. The corporate firewall may be set up to block data traffic on certain applications, to certain websites or on certain computer ports, which are used by collaboration applications. In that case, it is necessary to change the settings, or ask the network administrator to do it for us. In cases where it is authorised, one must be sure that a wireless presentation system can overcome such obstacles with well-encrypted Wi-Fi and a secure system architecture.