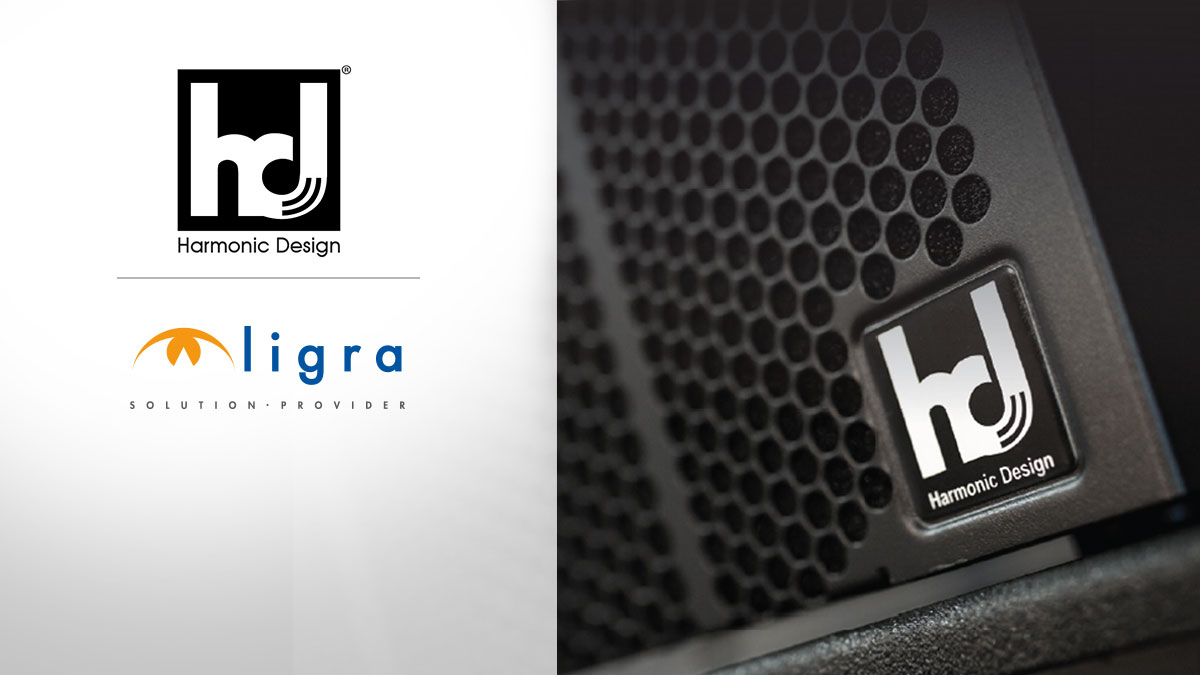 Ligra DS has signed an exclusive distribution agreement for Harmonic Design's German products for Italy. The catalogue includes soundbars and videobars for conferences, passive and active column loudspeakers with integrated Dante interface (optional), modular line arrays, subwoofers and related mounting and installation accessories, and control and simulation software for active loudspeakers. For its line of installation and touring power amplifiers, Harmonic Design relied on the Italian manufacturer Powersoft, a guarantee of the highest quality and continuous innovation.
The story of Harmonic Design is the success story of a family-run company with forty years of innovation behind it. Highlights include the PA loudspeaker range with FRP (fibreglass-reinforced plastic) horns on all drivers, one of the first DSPs based on FIR (Finite Impulse Response) filters for system linearisation and room acoustic optimisation, the SPA line of modular horn speakers, etc. 
Total control over the production cycle allows a very high level of customisation to meet the needs of designers and customers.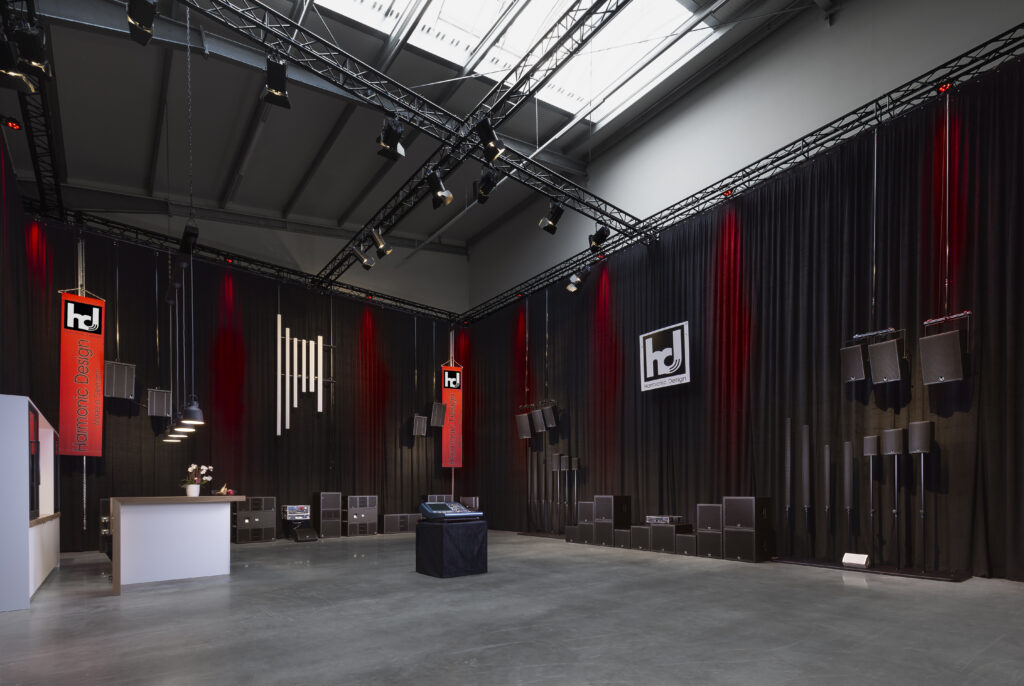 At Harmonic Design, the future is already present, as the company has been developing the HybridLineSource, which combines the advantages of point source and line source emission. Not only.... In the same year, it introduced the hd beamforming for their column loudspeakers, a step beyond the simplest beamsteering.
The scope of use of Harmonic Design products includes: bars and restaurants, hotels and resorts, theme parks, shopping centres and shops, museums, theatres, stadiums, convention centres, places of worship, as well as major corporate and educational environments.
Integrated A/V soundbar-based solutions
The German manufacturer has some very interesting collaboration solutions in its catalogue based on a product type that is becoming increasingly popular in the professional field: the soundbar.
hd AudioBar & hd VideoBar represent Plug & Play solutions that combine loudspeakers, a 300 W amplifier with internal DSP and FIR filters, mixer, wireless audio technology and a video camera in one device. Together with a display and a computer, they form a fully-fledged collaboration system for huddles and meeting rooms.
By using coaxial wide-dispersion loudspeakers for the best speech intelligibility, integrated subwoofer array configuration and intelligent signal processing algorithms, these products provide premium quality not only for speech but also for musical contributions. The two models mentioned differ in the presence of a camera slot in the hd VideoBar model: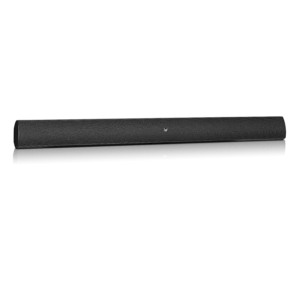 Main features:
Available for displays from 55″ to 65″

Plug & Play

Stereo line input

2 mono line inputs for wireless or wired microphones (headworn, clip-on microphones)

4 mic presets with EQ and dynamics

Wireless audio via Bluetooth 5.0

Slot for camera integration in the hd VideoBar model

EasyTuning with 4 presets for room adjustment: small room, large room, video conference, flat

Tailor-made production to fit the width of the screen, without long lead times
Beam-Series hd column loudspeakers
Beam-forming technology is able to shape the emission polar pattern to focus the sound only in areas that are useful for listening in order to achieve better speech intelligibility. Harmonic Design hd beamforming loudspeakers offer great potential for improving sound distribution in complex architecture and highly reverberant environments, such as churches or indoor locations with non-acoustically treated surfaces. In addition, this technology allows physical positioning of the loudspeakers even in less than ideal locations, which benefits the cleanliness of the installation.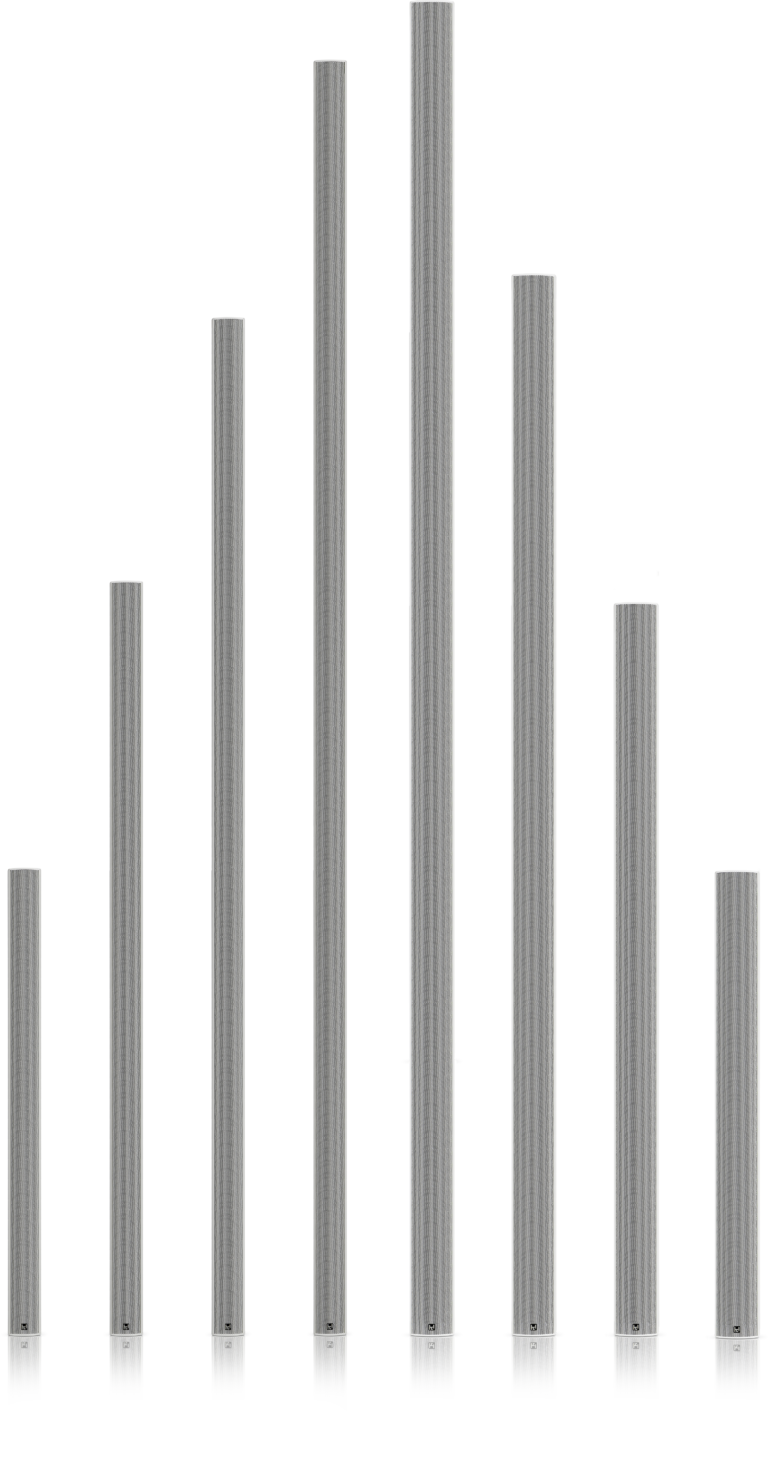 The width of only 80 mm makes the ML hd models the narrowest commercially available speakers based on beamforming technology, to the extent that they are almost invisible in permanent installations. The elegantly designed aluminium cabinet with high-quality 'powder-coated' finish and fine steel grille contribute to the speaker's elegant and discreet appearance for easy integration into room design and architecture, meeting the needs of architects, system integrators, event organisers and the public.
In addition, they adopt a single loudspeaker (full range, single way design, with no phase shift within the entire reproduced frequency range) for the best sound quality in both speech and music, better dynamics and wider horizontal coverage.
The modular concept of the Harmonic Design column loudspeakers finds full expression in the Beam-Series. Up to 32 DSP/amplifier channels, scalable in segments of 8, various configurations and the possibility of choosing RAL colours - in addition to black and white, which are standard - makes this loudspeaker line extremely versatile while maintaining a reasonable cost since the hardware design and software development take place in-house.
Finally, let us mention that they are ready for digital audio transmission over IP via the Dante® protocol. This allows digital streaming of audio packets over Dante® networks without additional DA/AD conversion to the integrated DSP core and amplifiers.
A software-controlled redundant input selector switch for the secondary analogue input ensures safety in the event of a fault, if required.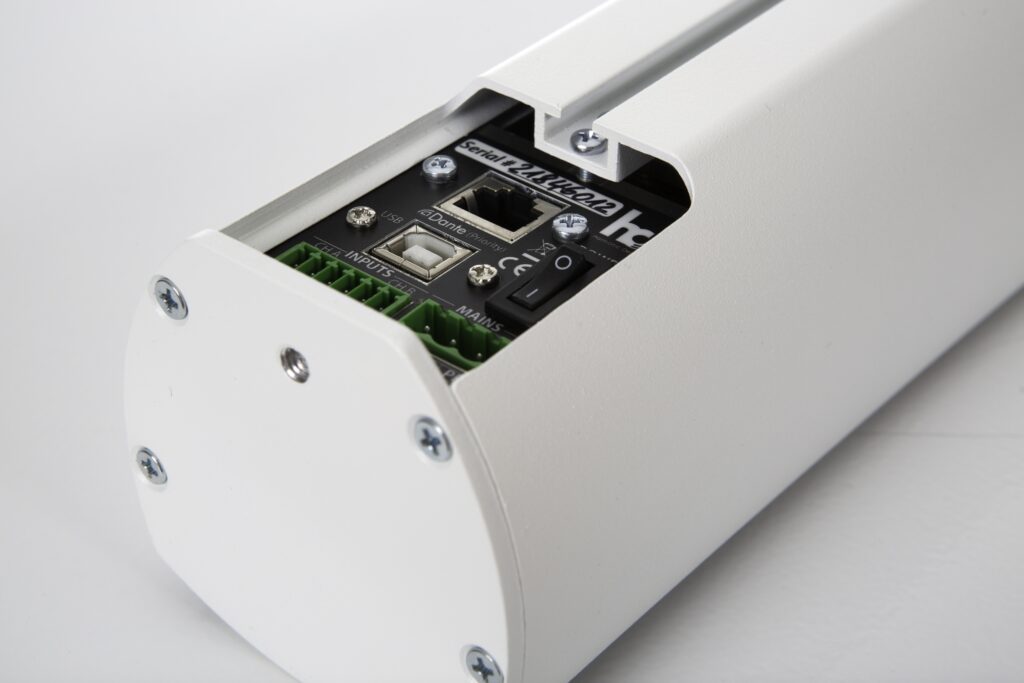 Main features:
ML-Series: up to 32 x 2" extended range, only 80 mm wide
PL-Series: up to 32 x 3" extended range, 108 mm wide, analogue or digital inputs
Scalable and adaptable
Shielded cabinet
Wide horizontal dispersion
Various mounting solutions (L-brackets for wall installation, etc.)
Optional Dante® input
RAL colours on request
Possibility of customisations
Shape your Sound! - shape your sound! - is the motto of Harmonic Design. The beamforming loudspeakers use special software to control the beam (or more precisely the angle of the vertical emission lobe) to within ± 60° in 0.1° steps.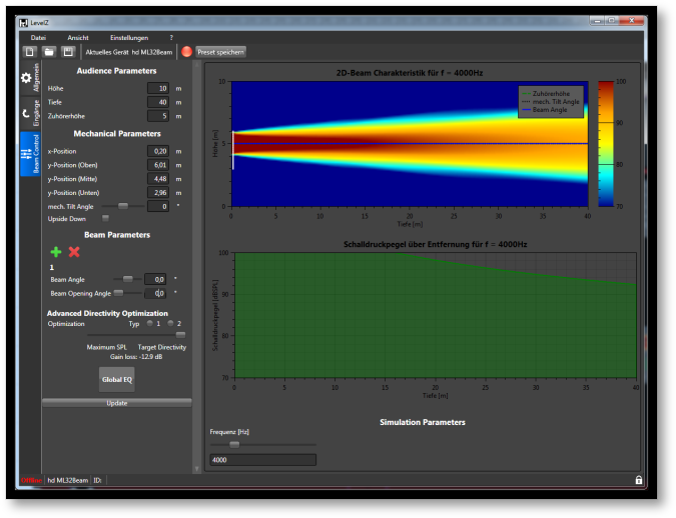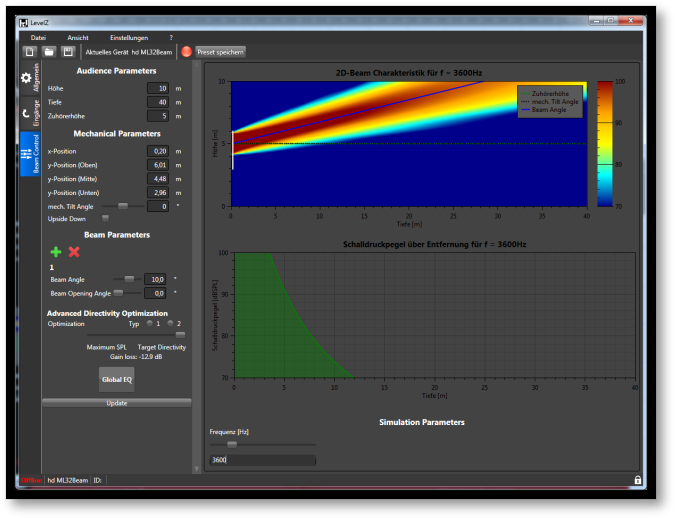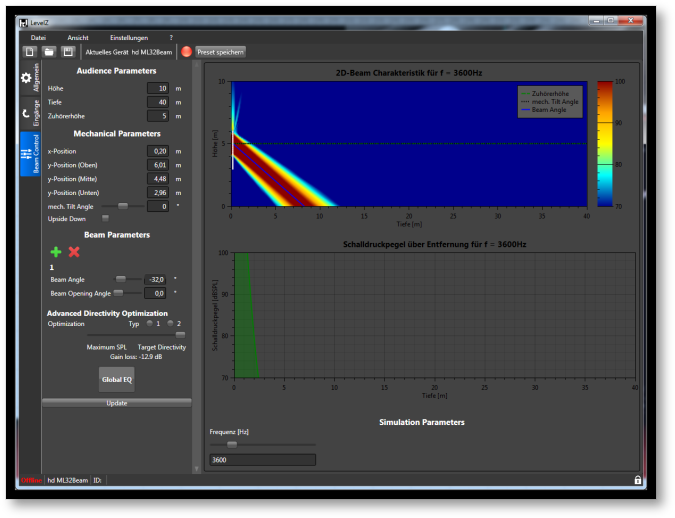 While conventional loudspeaker arrays increase their directivity as the frequency increases, hd beamforming loudspeakers allow for an opening angle that is essentially independent of the frequency (within physical limits) and adjustable from a minimum of 90° in steps of 0.1°, for optimal concentration of the sound beam where it is really needed.
Not only that: the unique Harmonic Design algorithm allows up to 4 separate main beams to be driven individually!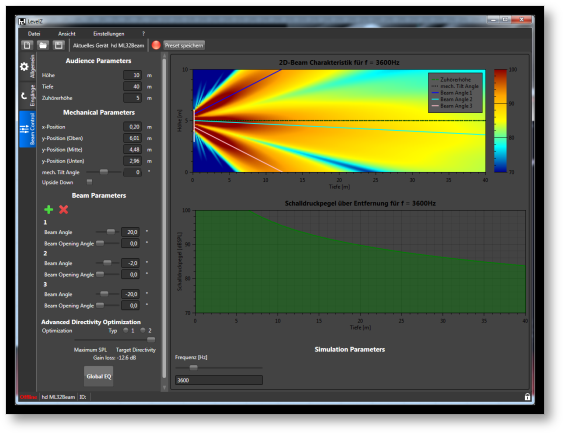 The conventional beam pattern also contains unwanted side lobes that decrease speech intelligibility. By applying special algorithms to the individual DSP channels (ADO = Advanced Directivity Optimisation), it is possible to achieve a near-optimal main lobe beam with accurate suppression of the side lobes, which is reflected in improved speech intelligibility in highly reverberant rooms: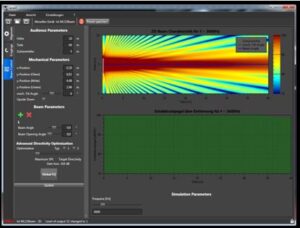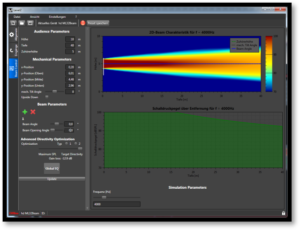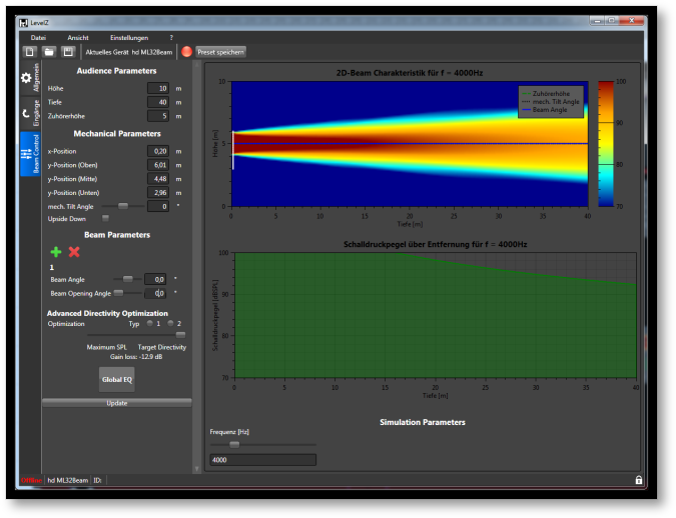 Same cabinet, two different polar diagrams
Acoustic loudspeakers are characterised by two main emission characteristics: point source and line source. Without wanting to go into technical details, we will say that a point source speaker emits like a point source and therefore has a spherical polar diagram, while a line source has a cylindrical polar diagram, with advantages and disadvantages for both. The Harmonic Design innovation is due to the fact that one or the other characteristic is available inside a cabinet of the same shape, resulting in the M-series (point source) and ML-series (line source) columnar models respectively. These employ from 2 to 48 2" transducers in extended range, offer a horizontal dispersion of 100°, powers from 50 to 1200 W and a width of only 87 mm. Also interesting is the possibility of customising them, in colour and array length.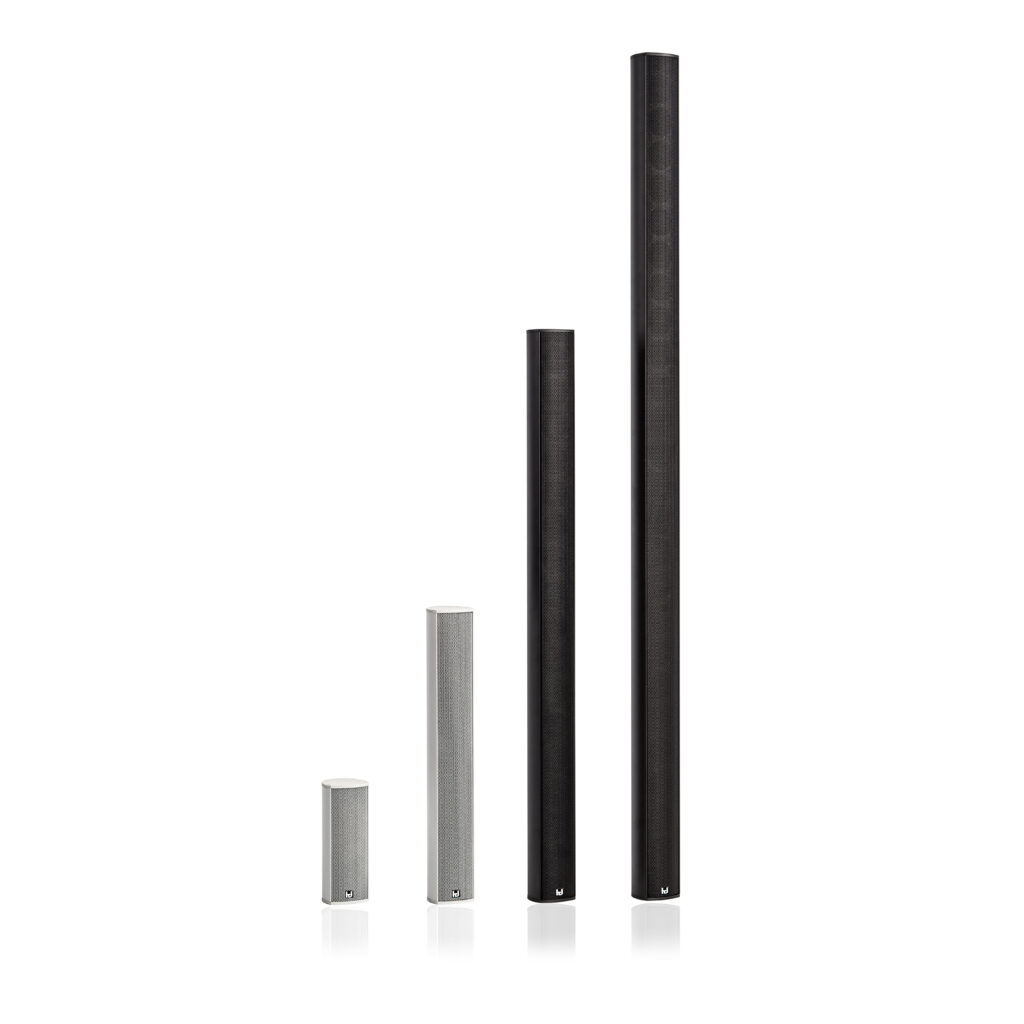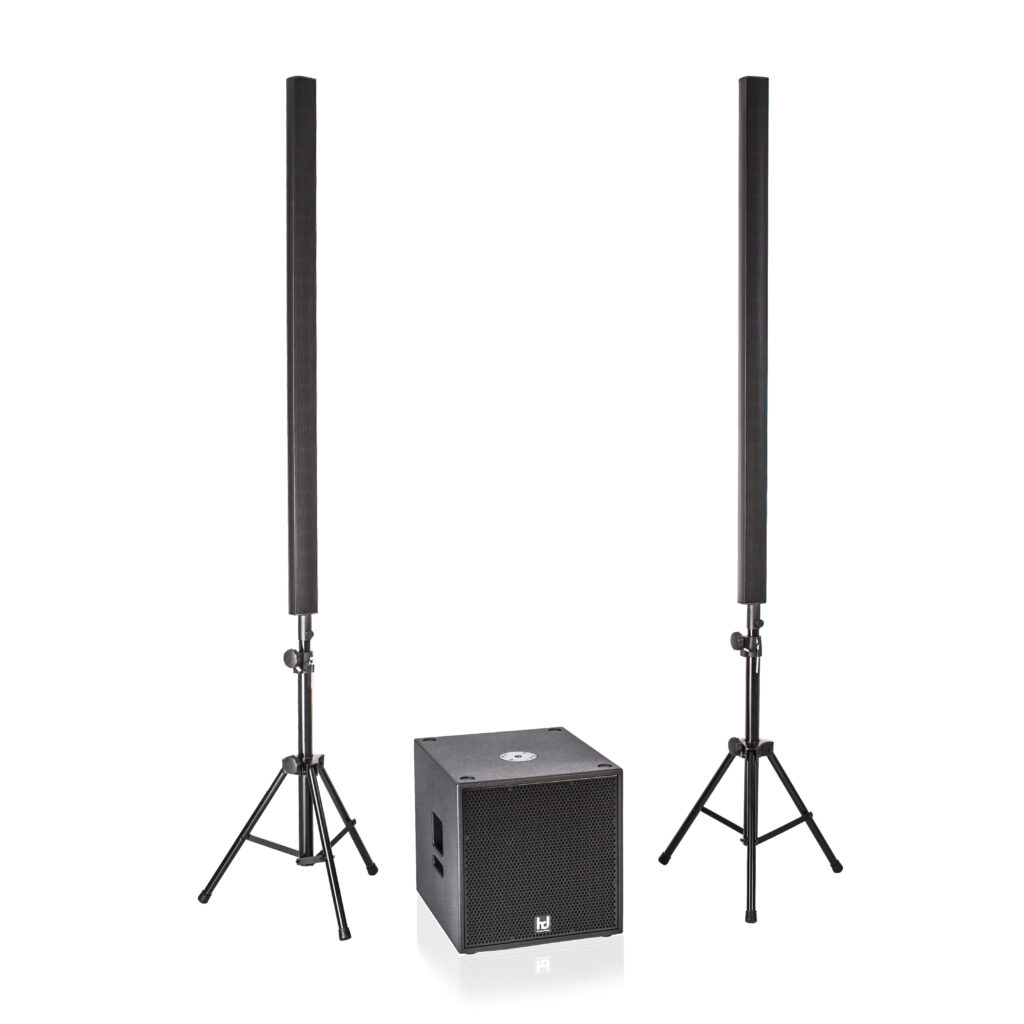 Active and passive subwoofers
I subwoofer Sub-Series represent the perfect complement for the speakers column and line arrays Harmonic Design. From the smallest, thehd Slim265 to thehd Infra218the series hd includes templates liabilities high power retention for a variety of installation applications fixed e touring. 
Active subwoofers hd P-Series, vice versa, integrate the DSP with filters FIR/IIR and Final 3 channels for 4.000 W overall. The drivers are from 12", 15" e 18", such as for the templates liabilities. 
A point source with the advantages of a line array
We mentioned a little above the types of emission of the most common types of loudspeakers.
Harmonic Design has gone one step further with the HybridLineSource, which combines both advantages: sound quality, ease of use and transport, affordable price for point sources; uniform sound level distribution, long throw and scalability for line sources. The end result is the HLS series models.
Main features:
Long range: 1 x HLS > 45 m, 3 x HLS > 100 m

Low frequency horn-loaded section (high sound pressure level)

Low distortion

Uniform horizontal dispersion due to coaxial setup

Reduced transport volumes

Economy in purchase: can be used stand alone or as an array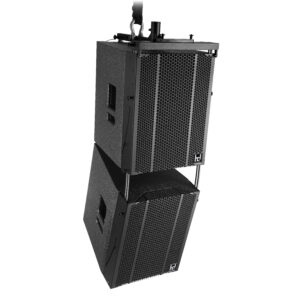 High-performance multi-purpose loudspeakers
The MP (MP = Multi Purpose) series loudspeakers for touring or fixed installation use are available in three different models according to the size of the woofer (10, 12 or 15"), which is capable of handling as much as 600 W RMS.
The new tweeter, on the other hand, is a 1.4" unit with a 90° x 60° or 60° x 40° rotatable horn and a particularly low cross-over frequency, ensuring high directivity and controlled dispersion within the vocal range.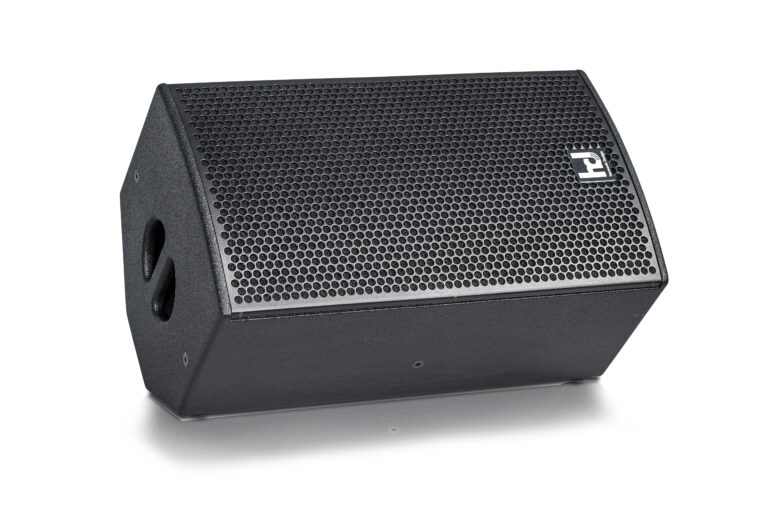 Line arrays and power amplifiers
There are two line array modules provided by the manufacturer, hd No3 and hd LSA12. The first is a compact 2-way passive loudspeaker with an 8" woofer and dual 1" tweeters for mobile and fixed installations with the possibility of clusters of up to 12 modules.
Products of this type require high power and quality amplifiers to meet the stressful demands of touring use. Harmonic Design offers two series:
- Qi, up to 4 channels, which can be processed thanks to an internal DSP with IIR and FIR filters. The associated hd LevelZ user software allows clear access to all parameters via a PC or directly on the amplifier via a 3.2" LCD display with navigation buttons.
- Powersoft, for fixed and touring installations up to 4 x 8,400 W @ 2 ohms, based on the renowned power modules of the same name.