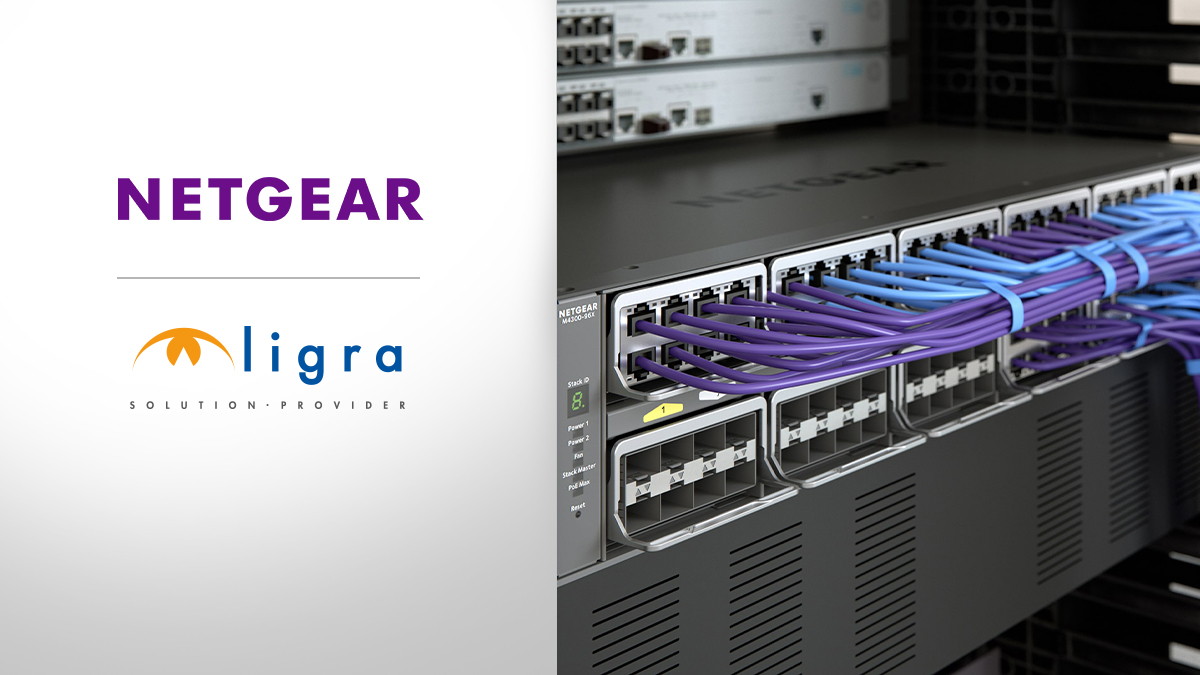 Ligra DS has signed a distribution agreement for the Italian territory with NETGEAR, a world leader in networking solutions. NETGEAR designs, develops and markets network devices for end users, businesses and service providers. Production ranges from Ethernet switches, wireless controllers and Access Points to unified storage products and Internet security devices for small and medium-sized businesses.
In particular, Ligra DS's focus is on Pro AV solutions designed specifically for AV-over-IP with unparalleled ease-of-use, reliability and cost-savings, and declined in the NETGEAR M4250, M4300 and M4500 switch series, which includes dedicated support services coverage. These products can be ordered with exactly the combination of fibre or copper ports the customer needs, with possible future expansion.
With the ability to connect any type of AV device over IP, NETGEAR switches offer flexible speed options from 1 to 100 Gbps per port and are suitable for any installation where Dante®, Dante AV or AVB is used: from university campuses to travelling road shows, via control rooms and broadcast studios.
The network switch, a key element for AV-over-IP
As we know, AV-over-IP uses standard IT network equipment to transmit and receive audio, video and control signals over WAN, LAN or Internet networks. For years, AV sources have been sent across rooms, buildings and campuses over traditional and dedicated infrastructure. With the latter, however, it can become prohibitively expensive to extend signals over large lengths in very complex systems. Thus, by replacing the transmitter, matrix and receiver with an encoder, network switch and decoder, signals can be sent over Ethernet, allowing for much longer distance transmission and with the flexibility needed for possible future system expansion. In this transmission scheme, the network switch plays a key function. Although, in principle, all Ethernet Gb switches can work with Dante AV, there are certain features and functions that should be taken into account to improve the reliability of the network itself.
The first thing to consider when selecting a network switch for these applications is the bandwidth. The most common solutions require 1, 2.5 or 10 Gbits to transport AV over IP. For most applications, where almost zero latency and flawless 4K video quality are not critical, a 1 Gbps solution is usually sufficient. For more demanding applications, or where higher resolution such as 8K is expected, it usually makes sense to opt for a 10 Gbps solution, which will introduce less compression and latency. While 1 Gbps switches still offer the lowest cost per port, the price of 10 Gbps solutions is falling rapidly, making them more attractive. For channel counts of 32 or more, Gigabit Ethernet switches are still essential. In networks sharing data with services other than Dante, QoS (Quality of Service) is recommended. Recall that QoS is a feature of managed switches, those that provide detailed information on the operation of each parameter such as port speed, errors, bandwidth and can be configured accordingly. QoS ensures that certain types of network packets, e.g. clock synchronisation and audio, receive 'preferential treatment' and thus have priority over other types of traffic. Another important feature is the maximum power that each individual port can provide for PoE power, which can range from 30 W to 90 W in the Ultra90 PoE++ standard.
Finally, we must emphasise the fact that video multicast requires a special configuration to ensure that traffic reaches its destination without interruptions and without network overload. The protocol designed for this purpose is called IGMP (Internet Group Management Protocol) and contains a number of functions, including snooping and queries, that allow a multicast video signal to reach the desired receiver. Most switches on the market require up to 14 individual commands for all IGP settings. NETGEAR's AV over IP switches contain IGMP Plus, which configures all IGMP settings with a single command, a clear benefit.
M4250 Series Network Switches
The new M4250 AV switch series is designed for 1 Gbps AV-over-IP installations and to integrate seamlessly with traditional AV equipment. This line of devices, pre-configured with ready-to-use features and a web-based user interface, comprises no less than eleven models that differ in the following aspects:
Number of ports: 8 to 40

 

Speed: 1 Gbps or Multi-Gigabit 2.5/5 Gbps

 

PoE power supply type: PoE+ or Ultra90 PoE+, up to 2880 W total

 

Type of primary ports: RJ45 (CAT-6a or CAT-7) or SFP+ (optical)

 

Mounting system: front or rear rack, VESA

 

Cooling: with or without fans

 
M4300 Series Network Switches
Unlike the M4250 series, the M4300 includes sixteen models, most of them at 10 Gbps, but in some cases with different speeds on different ports, up to 40 Gbps for the M4300-96X! Here are the main features:  
Number of ports: 6 to 96

 

Speed: 1, 10 or 40 Gbps 

 

PoE power supply type: PoE+, up to 1500 W total

 

Type of primary ports: RJ45 (CAT-6a or CAT-7), SFP+ and QSFP+ (optical)

 

Form factor: rack or ½ rack

 

Cooling: with fans

 

Web-based GUI

 
M4500 Series Network Switches
NETGEAR's top series of switches, designed for any AV over IP application with speeds up to 100 Gbps, includes only two models with a fibre-optic network interface.
Number of ports: 32 to 58

Speed: 10 to 100 Gbps

Type of primary ports: SFP and QSFP (optical)

Form factor: rack

Cooling: with fans

Web-based GUI