MakeKit AS is a Norwegian company founded in March 2019 by Henning Pedersen and Steinar Holøs. It makes do-it-yourself kits that make technology accessible and easier to understand through engaging STE(A)M learning based on intra- and intercurricular integrations.
Technology is all around us and is becoming more and more important, but also less accessible and more difficult to understand. Understanding technology is the fundamental skill of the 21st century and MakeKit's mission is to make it affordable in an engaging and relevant package so that students can understand STE(A)M subjects, gain self-confidence in their approach to technology and derive a sense of achievement from it.
All kits are open to design and customisation, which means that pupils can use both traditional and modern tools (such as 3D printers, laser cutters, ...) to design their own constructions, test prototypes or new physics experiments.
It all started in 2018 with the foundation Makeadrone: Henning Pedersen wanted everyone to experience the joy of building their own drone. In 2019, he and Steinar founded MakeKit with the aim of creating education kits suitable for 'little inventors'.
The first kit to be launched was Air:Bit in the autumn of 2019, and was a huge success as the world's first and only micro:bit drone. Air:bit is still one of the most advanced and inspiring kits.
"We were lucky to be able to put our passion for technology and the art of creating to good use. If you are lucky enough to have parents or a teacher who are genuinely interested in technology, you are likely to be introduced to the world of technology. But this is not the case for most people. At MakeKit we make easy-to-use products for children, parents and teachers. Technology and the creative arts are more important today than ever before. And in the future, these skills will be even more valuable." says Steinar Holøs, CEO and founder of MakerKit.
Sustainable Development Goals
Education should be about the joy of exploration: this principle is pursued in the development of all MakeKit products and services
The intent of the MakeKit engineers is to find better and more innovative solutions to make the new products.
All MakeKit products are made from environmentally friendly materials.
MakeKit devices are made from environmentally friendly local materials and manufactured in such a way that they are reusable and repairable.
AIR:BIT - Your drone in 6 steps
Air:Bit combines the ease of use of micro:bit with the excitement of a drone. It is the world's first micro:bit drone ever developed, possessing all the relevant features to master the future of technology. It is a STEAM learning kitwhich engages students in a practical and creative way. It is fully repairable and withstands many accidents. Technologically and economically the best drone of all.
The makekit air:bit is a kit that contains:
2 micro:bits

1 4 mm plywood or 3 mm acrylic sheet

1 Air:Bit
[Needs a cutter].


Step 1: Design your drone with your favourite design programme. Remember to have 4 x 3 mm holes for the landing spacers and 2 x 3 mm holes to mount the Air:Bit.
Step 2: cut out the parts of the drone with the cutter.
Step 3: start working on the air:bit assembly by attaching the micro:bit to the chassis with the kit screws. Then connect the battery with one of the rubber bands and mount the motors with the struts so that they are diagonally opposite each other. Finally, mount the landing gear and connect the power cables between the motors and battery.
Step 4: mount the landing gear and connect the power cables between the motors and battery. The drone is now finished.
Step 5: programme the drone: you can use the code that MakeKit has made available.
Step 6: test your drone and have fun.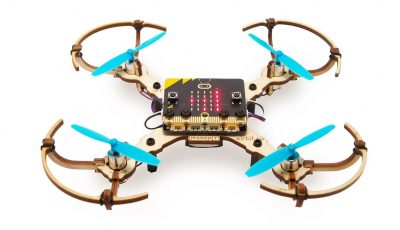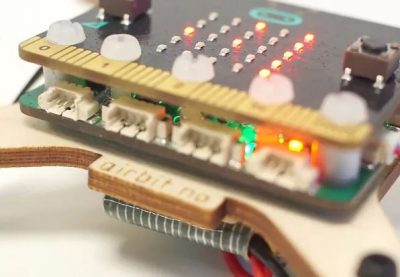 Wonder:Kit System - A complete kit of all micro:bit-based solutions
The basic package includes two kits in addition to the main components such as the Wonder:bit control board, MakeKit lithium battery and quick charger.
The two kits included are Reaction:Bit e Invent:Bit and offer the perfect introduction to both micro:bit and creative exploration.
Create your own project, play and develop it. Here you learn how connecting electronics and programming prototype, energy delivery, potential times and more.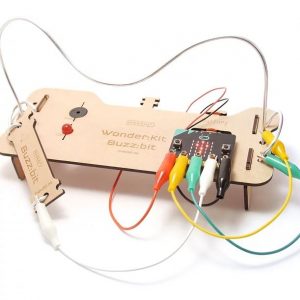 Create your micro:bit hovercraft with the models and discover both geometry, symmetry and problem-solving. This is an exciting kit for young and old and can lead to many different versions, such as catamaran, boat and more. The model is made for educational use with 3 different levels.
The micro:bit powered dronebuild it, code it and fly it. You learn how to code your drone and can continue to develop both the code and the construction and design.
Programme your musical expression using the versatile micro:bit platform and makecode. Experiment with rhythm, melodies and acoustics. Fantastic STE[A]M skills development project for students aged 11 to 16. Easy to introduce in both music and science classes.