Agreement signed between Zenyth, exclusive importer of the Swedish brand Swedx, and Ligra, global provider of professional communication solutions.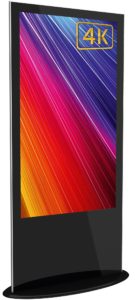 The agreement covers the distribution of Swedx's entire product range, but Ligra's activity will be particularly focused on the presentation of totems, the thinnest in the world, created for indoor proximity communication.
Swedx totems - in its two series of Blade and Kiosk - used stand-alone, are active and fully functional with a connection to an electrical system and a USB key equipped with the content to be displayed. They offer simple, effective and comprehensive programme management and content customisation in every detail: video and audio inputs allow the totems to be used with an external source, such as a player containing Digital Signage software. Equipped with integrated audio speakers, the totems are controlled by the Smart HDMIthanks to which the Swedx screen goes into stand-by mode when it receives no signals and activates automatically. The totems produced by the Swedish company, Blade and Kioskare the thinnest devices produced in the world with only 36 mm thick and, to date, the most interesting in terms of value for money. Another novelty Swedx offers in Italy are the Ultra HD/4K monitorsspecially made for professional Digital Signage.
Read the full press release: Ligra-Swedx_09_2015