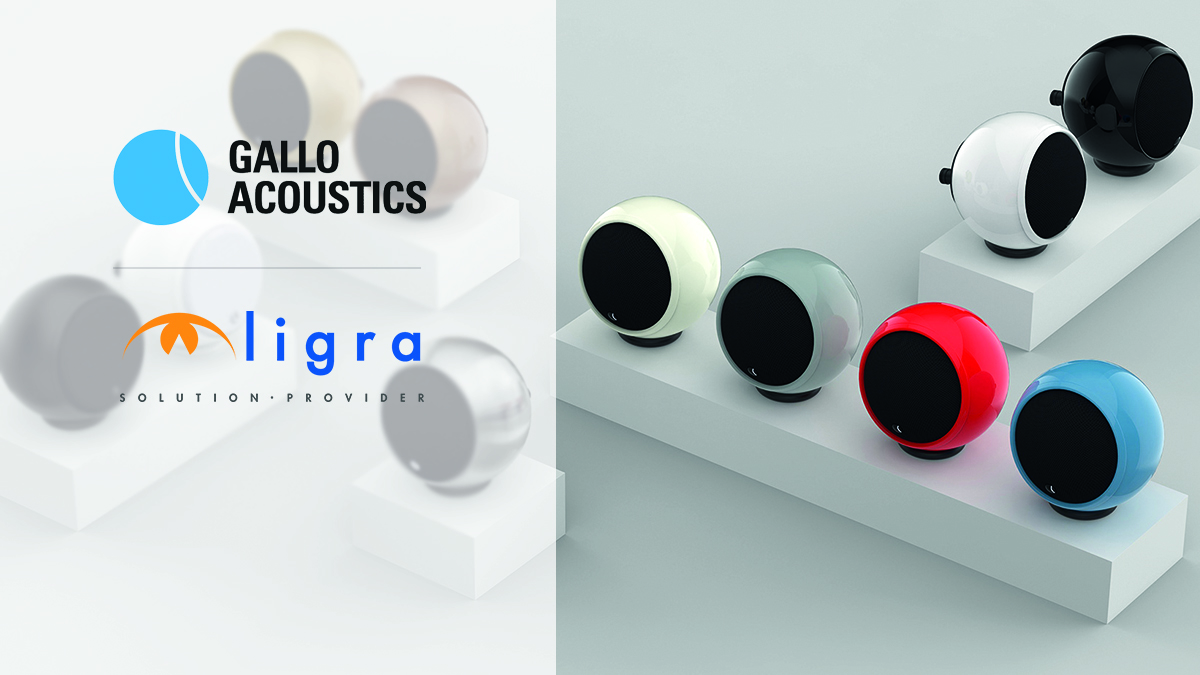 Ligra DS is pleased to announce its partnership with Gallo Acoustics for the distribution on the Italian market of its line of acoustic loudspeakers intended for the hospitality sector (hotels, restaurants, lounge bars, pubs, etc.), office relaxation areas, professional studios and all places where hi-fi quality sound reproduction is required together with ease of installation and positioning due to the compact dimensions and exclusive design based on "spherical" shapes. The wide range of customisation possibilities in terms of colours and materials make Gallo Acoustics products the ideal choice for enhancing the sound of the most diverse environments while discreetly and elegantly blending into them.
A different way of conceiving loudspeakers
Gallo Acoustics is an English loudspeaker manufacturer that has been following a different construction philosophy from most of its competitors for over 20 years. In its product lineup, in fact, you will not find models with a parallelepiped, trapezoidal or square-shaped cabinet, but spherical. This is not for purely stylistic or aesthetic reasons, but because it is the only geometric shape that eliminates internal resonances, one of the main causes of distortion in loudspeakers, along with diffraction. In fact, when sound waves are emitted inside an enclosed volume by rigid walls where there is not an adequate amount of acoustic absorption, they are reflected several times by all internal surfaces, creating so-called standing waves. These waves cause irregularities in the frequency response, resulting in listening fatigue due to rumble caused by the vibrations transmitted by the loudspeakers or produced by the pressure inside the loudspeaker that 'excite' the resonances of the panels that make up the cabinet. Damping materials attenuate the phenomenon but do not eliminate it, likewise inclined walls.
Gallo Acoustics produces some of the world's best compact acoustic loudspeaker systems, each designed to fit the interior design in which it will be placed and to bring high quality sound to living or residential spaces large and small.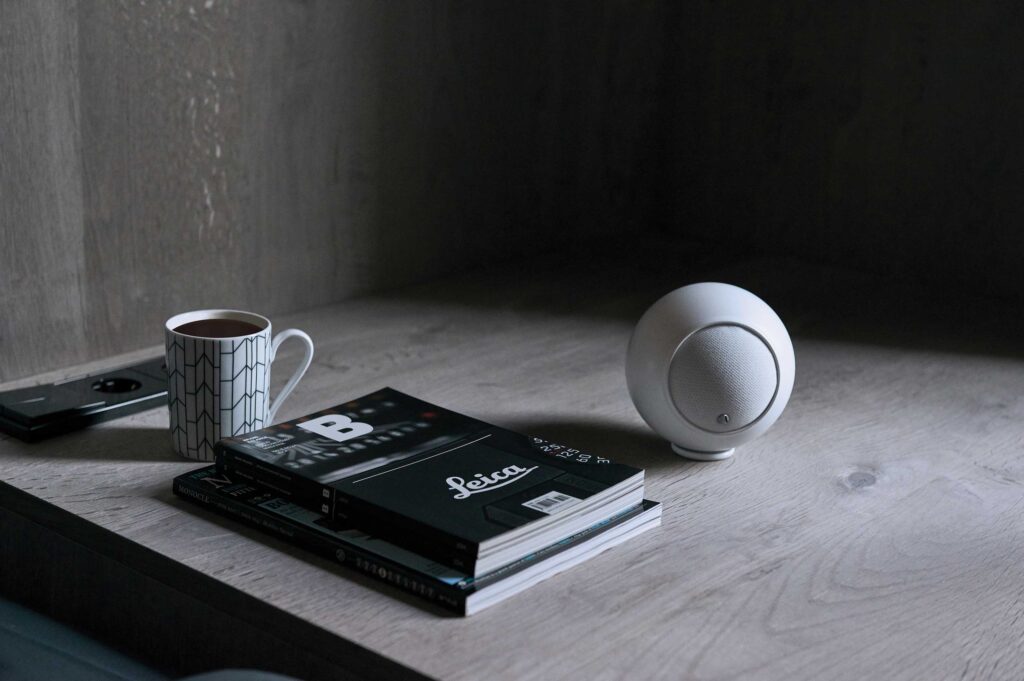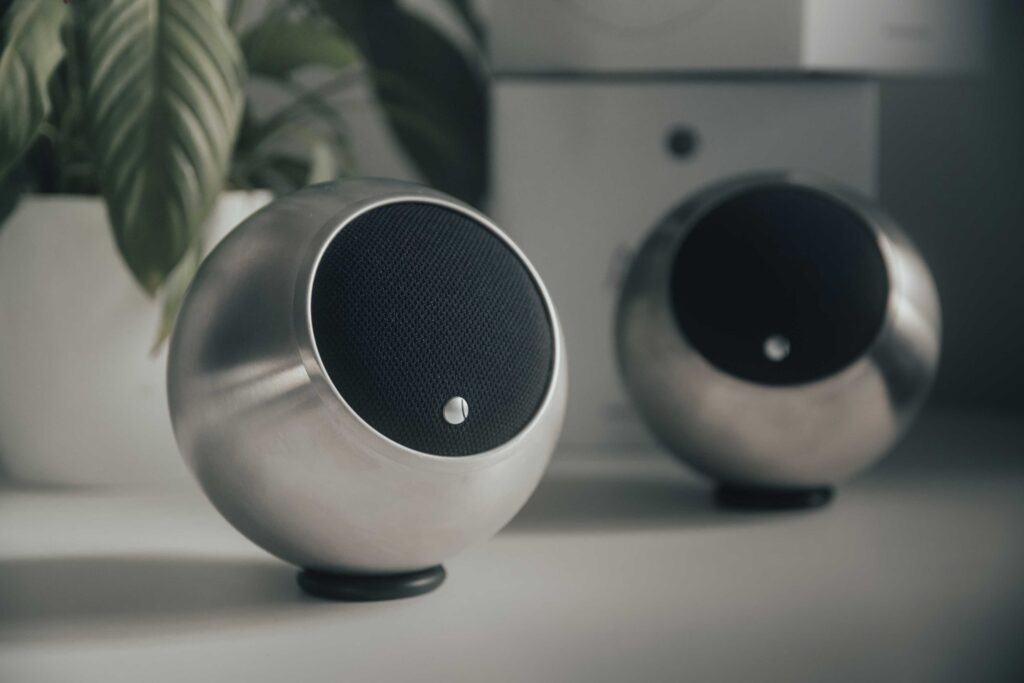 Four product lines for growing needs
Anthony Gallo designed his first loudspeaker, which went on sale in 1994, at the age of fourteen. Today, the Gallo Acoustics product range consists of four models: Micro, A' Diva, Droplet e Road 2plus a pair of subwoofers (TR-3D and ProfileSub). The warranty is 5 years on the four speaker models and 2 years on the subwoofers.
There are plenty of loudspeakers that can reproduce excellent sound, but unfortunately many are too big, unattractively designed or require too much drive power - all of which makes Micro different. In fact, Micro is...
A 4″ (10, 1 cm diameter) all-metal sphere, available in a wide range of colours and finishes, which incorporates a 3″ extended-range driver with a Mical Polypropylene Compound cone and guarantees a frequency response of 120 Hz to 18 kHz (when placed on a table). Obviously, a subwoofer, such as the TR-3D, must be added to cover the full audio frequency range.
A high-end loudspeaker that fits in the palm of your hand, available in a palette of 11 standard colours to match the décor of any venue, from Urban Grey to Race Red to the luxurious tones of Gold and Bronze finishes. Alternatively, the SPECTRUM bespoke service opens up a world of possibilities from Pantone and RAL colour systems.
Micro is also flexible, with a wide choice of mounting options available, including wall, floor, table (thanks to the silicone rubber and aluminium Isolation2 ring) and ceiling.
The Micro SE retains the design characteristics of the original Micro, but adopts a specially developed full-range (and thus no crossover), flat-diaphragm, ultra-wide dispersion transducer covering a frequency range from 100 Hz to 22 kHz. This technology allows the Micro SE to behave like a true hi-fi acoustic loudspeaker. Optimised Pulse Technology (OPT) and patented S2 damping control pods eliminate all colouration, resonance and distortion that fatigue listening.
Gallo Acoustics has created the A'Diva by taking a design cue from the Micro but with a larger cabinet. Only one inch (2.54 cm) larger than the Micro, totalling 12.7 cm in diameter, but with the same 3" driver, A'Diva gains an extra half octave in the bass range down to 76 Hz, which means it can be used without the use of an additional subwoofer. When you don't have the space to add one, A'Diva is the speaker for you! Thanks to its low distortion and neutral timbre, it can be used in any application such as two-channel stereo, home cinema, multimedia and custom installation. It can be mounted practically anywhere, e.g. on a cabinet or shelf, without bass resonance problems. Connection to the amplifier is via standard size gold-plated banana plugs, or screw connectors for cables up to 4 mm in cross-section.
The SE version of A'Diva adopts the proprietary transducer already seen on the Micro SE for an extended frequency response of 80 - 22,000 Hz. Just like the standard model, the A'Diva SE has enough bass extension to be used without a subwoofer. It is available in the following finishes: satin black, matt white or stainless steel.
Droplet pendant loudspeakers are an alternative to traditional square models and flush-mounted ceiling loudspeakers, which often have a sound performance that leaves something to be desired. Droplet rises to the challenge of providing sound in open spaces and high-ceilinged rooms, adding a touch of style and colour for applications requiring true hi-fi quality sound in a design-oriented, furniture-friendly form.
Droplet is based on the design of the Micro and A'Diva products, in both standard and SE versions. The 'chandelier' installation guarantees a wide sound stage thanks to high dispersion, with the possible additional benefit offered by the SE versions for a wider frequency range. The A'Diva versions of Droplet allow for a lower frequency range without the use of an additional subwoofer. Each of the four variants offers different attributes and varying levels of acoustic performance depending on budget or application.
Suitable for a wide variety of environments, from hotel lobbies to restaurants and lounge bars, Droplet has all the audio credentials to back up its obvious aesthetic appeal.
Available in a choice of 11 stock colours and 9 different cable finishes, this acoustic speaker opens up a world of interior design opportunities. And for special projects, the SPECTRUM service allows you to match any colour, either from Pantone or RAL or from a different sample.
Strada 2 is the latest incarnation of the acclaimed Strada reference loudspeaker. It is a winning mix of power handling (150 W RMS), sensitivity (90 dB/W/m), frequency response (68 - 20 Hz ± 3dB) and dispersion. A true hi-fi quality loudspeaker that is equally impressive installed on a wall or pedestal, with music or a film soundtrack. After examining the latest data on psychoacoustics, Gallo Acoustics developed the OPT (Optimised Pulse Technology) system, which required the redesign of the acclaimed cylindrical diaphragm transducer (CDTTM): and thus the CDT 3 tweeter was born. This cylindrical diaphragm tweeter offers 180° horizontal dispersion from 6 to over 20 kHz!
For most applications, we recommend combining Strada 2 with a subwoofer like the TR-3D.
A second version of the Strada 2, known as Strada 2 Center, was developed for home cinema applications. This alternative version is designed for horizontal use (the tweeter has been rotated by 90°) to ensure that the acoustic performance is not compromised when used in a multi-channel system. Strada 2 and Strada 2 Center loudspeakers are supplied with table stands or wall mounting brackets. Floor stands are available as an option.
Two colour finishes are available: black and stainless steel, or all black.
The TR-3D subwoofer is the ideal complement to the Gallo Acoustics speaker range. It is a high-output (300 W RMS) active dynamic subwoofer (Class D power amplifier) featuring patented S2 bass loading technology, designed for both music and movies. It utilises a 10-inch long excursion driver with a cone made from a very thin ceramic-coated anodised aluminium foil. It is equipped with a series of controls, located on the rear panel, to optimise its operation: infinitely variable low-pass cross-over frequency adjustment from 50 to 180 Hz, infinitely variable input sensitivity adjustment, bass equalisation (boost) at 0, + 3 dB and + 6 dB, phase at 0 - 180°. The internal electronic cross-over can also be bypassed. The input connectors are RCA type and there is a high-pass line output with fixed cross-over at 100 Hz. The TR-3D's cylindrical steel chassis reflects Gallo's spherical loudspeaker technology and enables powerful bass from 18 to 180 Hz. The finish is satin black.
ProfileSub provides bass extension to your Gallo loudspeaker system in a slim cabinet that prioritises design. It can be hung on the wall in horizontal or vertical orientation, or alternatively hidden from view under a piece of furniture or a sofa.
Mounted on the wall, ProfileSub frees up floor space and is not burdened by the performance constraints and wall vibration problems normally associated with in-wall subwoofers; it is designed to acoustically decouple from the wall, ensuring that the only vibrations created are those to produce sound.
Equipped with an 8" woofer with polypropylene cone, driven by a high-performance 150 Watt class D digital amplifier, ProfileSub is capable of going down to 32 Hz, developing excellent articulation in the low range. Compared to the TR-3D, it offers continuous phase adjustment, but has no line output or power output to the satellites, which must be amplified independently.
ProfileSub is available in white and satin black finishes, each supplied with two removable grid options - black and concrete grey - providing an additional element of visual customisation.