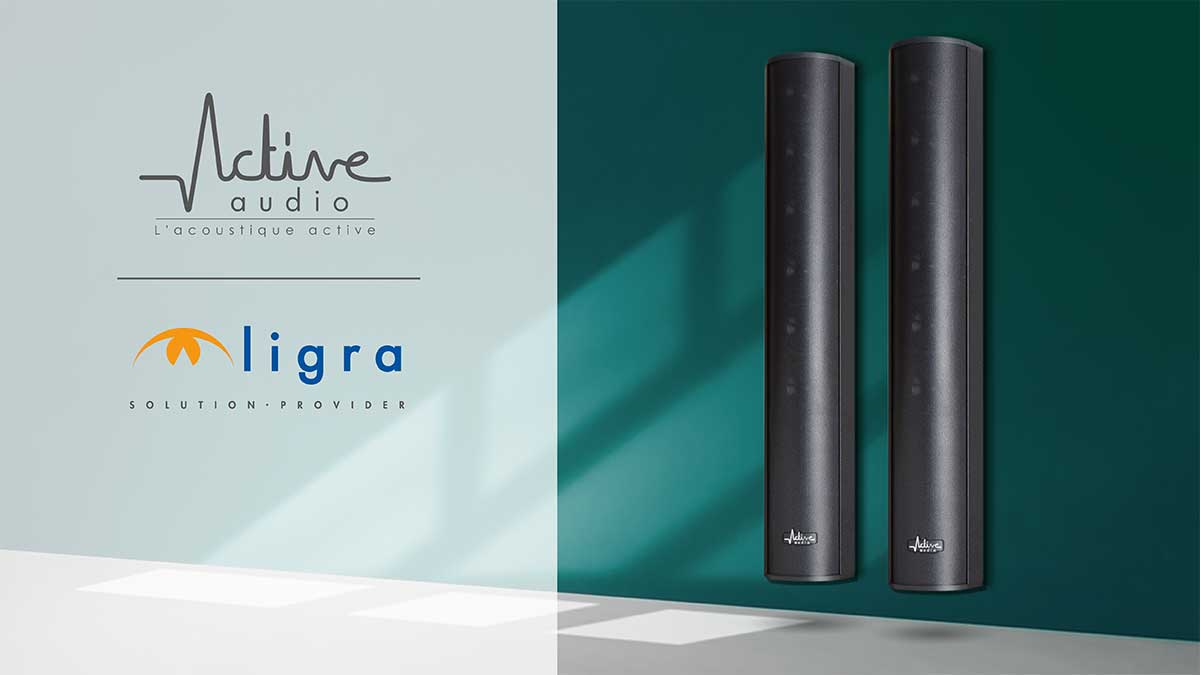 Ligra DS has signed an agreement with the French company Active Audio for the exclusive distribution in Italy of its line of acoustic loudspeakers and subwoofers, audio processors and amplifiers for PA (Public Address), corporate, retail and hospitality applications where sound quality, ease of installation and design play a fundamental role. Leveraging its expertise in room acoustics and investing considerable resources in the study of digital signal processing techniques, Active Audio has first experimented with and subsequently developed products to improve speech intelligibility and solutions for events and fixed installations to offer the end customer a range of high performance products that also boast solid reliability.
The hybrid array principle applied to Active Audio column loudspeakers
In order to understand how Active Audio came to develop its column loudspeakers based on beam steering technology, i.e. the technology used to direct the sound emitted by the loudspeaker to a specific position in the listening area, we need to take a step back and mention the problems arising from sound reproduction in reverberant environments. In an enclosed, non-acoustically treated room, if we place a loudspeaker relatively close to the listener, the latter will perceive a direct sound and a delayed, reflected sound due to the walls of the room. 
The energetic contribution of the direct sound is preponderant, that due to the reverberated field less so. The end result: speech intelligibility is good. However, when the audience becomes large and the area to be covered extends, the first thing that comes to mind is to gradually increase the number of loudspeakers. This is a common mistake, as the energy of the direct sound increases only marginally by increasing the number of loudspeakers, while the energy associated with the reflected sound increases proportionally, with the final effect of worsening speech intelligibility.
Basically, too many loudspeakers penalise speech understanding precisely because of the room reflections that add up destructively; it is therefore necessary to reduce the number of loudspeakers to a minimum compatible with the size of the room and the size of the audience present.
Over time, various solutions were devised to control the directivity of the loudspeakers in such a way as to concentrate their emission only in the desired area, to obtain a strong direct sound and uniform coverage for good acoustic comfort, solutions that led to the popular line arrays. Line arrays are not only geometrical with the typical "banana" arrangement of the cluster modules, but also electronic, where the wavefront is not controlled by the positioning of the loudspeakers but by means of digital signal processing systems (DSP, FIR filters), delays, gains, etc., with the advantage of being able to configure all these parameters via software and the added plus given by the fact that the array is vertical and therefore also visually well integrated within the room in which it will be installed. The idea of a column loudspeaker with directivity control (beam steering) was also the most natural choice for Active Audio, but the company wanted to go a step further by adding innovative features that would give its loudspeakers a competitive edge.
The weaknesses of electronic arrays are in fact due to cost and configuration difficulties. The solution devised by Active Audio resulted in the patented DGRC (Digital & Geometric Radiation Control), which in practice combines the advantages of a geometric array with those of an electronic one.
In the Active Audio loudspeaker series StepArray and Ray-Ona certain number of loudspeakers that make up the loudspeaker as a whole are assigned to a limited number of electronic channels, effectively sharing the DSP and power stages. For example, 30 loudspeakers can be assigned to 6 DSP channels and the same number of amplification channels, in groups of 5, with obvious cost savings. All the electronics can be found in the dedicated signal processors we will discuss in a moment and in the multi-channel amplifiers. Furthermore, the wavefront produced is not a symmetrical beam, effective only in the near field, but has an asymmetrical lobe that is characterised by its coverage distance and not by its aperture angle.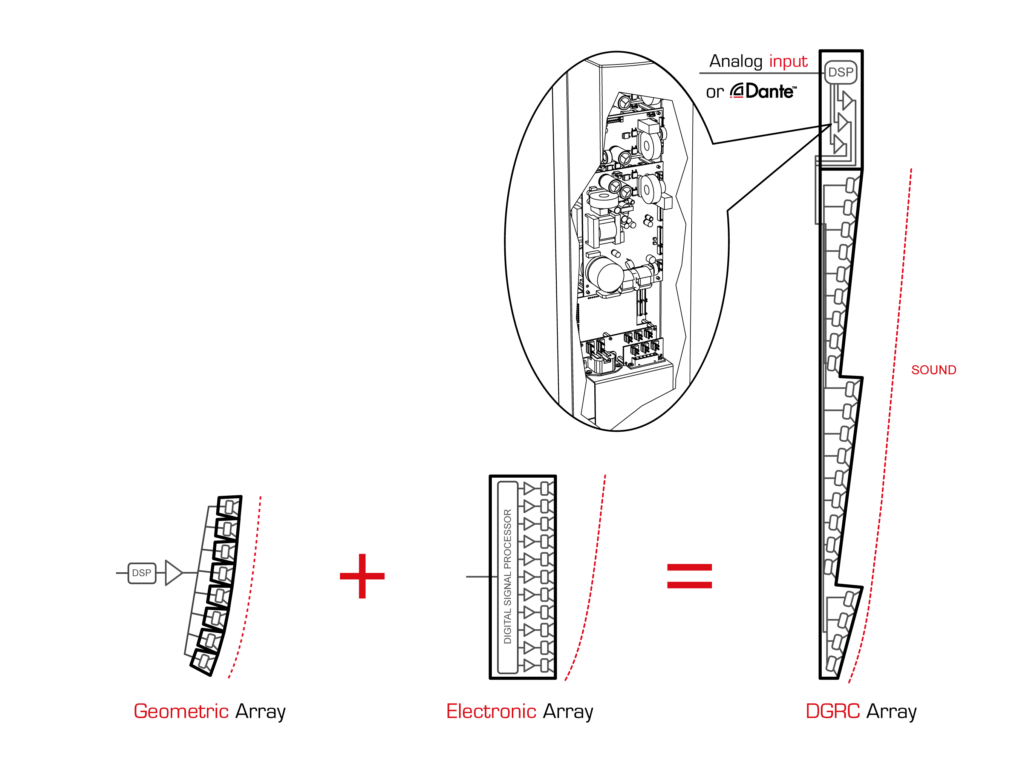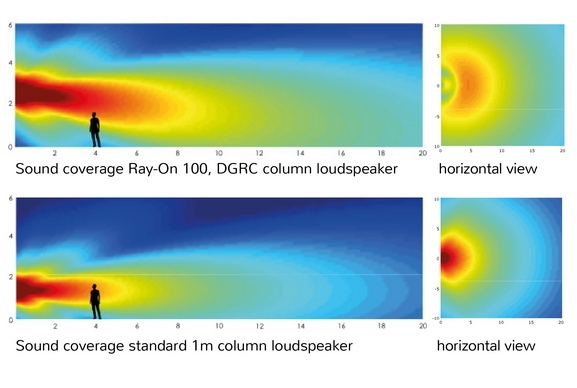 DGRC technology has led to the development of several column loudspeaker models aimed at producing excellent speech intelligibility in places of worship, railway stations, airports, shopping centres and theme parks over distances of up to 90 m, with the advantage of being able to provide a coherent sound field within a well-defined listening area.
StepArray and Ray-On loudspeakers: Active Audio's innovative proposal
StepArray column loudspeakers enjoy the advantages of the two main current technologies for directivity control and represent the core of Active Audio production.
It consists of six passive models, four of which are for audiences placed on the horizontal plane at distances between 21 m and 90 m and two for audiences on an inclined plane (cinema-type) within an angle of 5° - 20° and distances of 29 m and 36 m respectively.
The models of the StepArray+ series are even more versatile as they combine audio over IP with all the functionality of StepArrayThese are in fact active models, with integrated amplification and processing stages, equipped with Dante™ input.
Alongside StepArray, the French manufacturer has produced a series of acoustic loudspeakers called Ray-On which testifies to its determination to offer DGRC technology to a wider audience, while maintaining the price attributes and ease of installation of traditional loudspeakers.
Ray-On can be used in environments with more restrictive architectural constraints and in a perfectly vertical position without the need to be angled towards the floor. The range includes four 20 cm, 60 cm, 1 and 2 metre passive column loudspeakers and a horizontal array (B70) dedicated to all those spaces that require perfect directivity control on that plane: corridors, railway station platforms, underground stations, meeting rooms, etc. Not to be forgotten is the compatibility with 100 V systems and the IP54 certification for indoor and outdoor use on all models.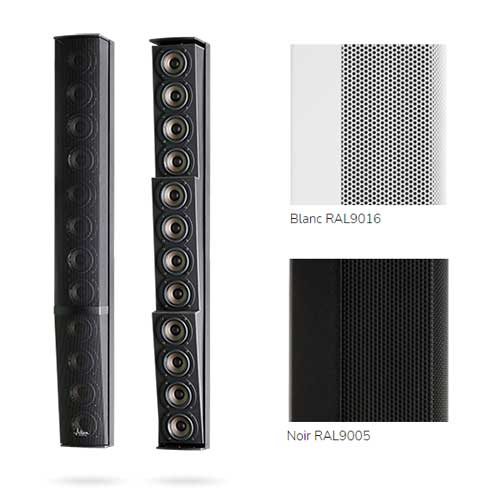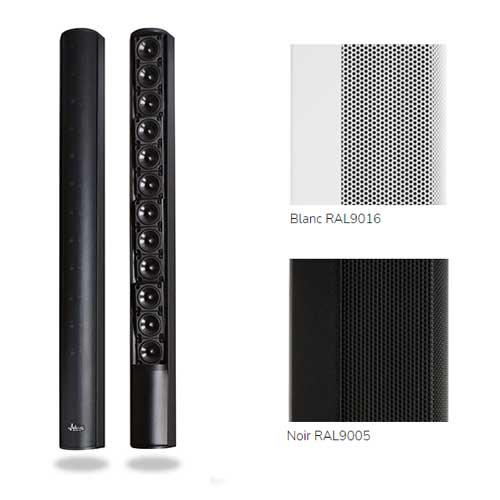 In this case, two variants are proposed: Ray-On+ and Ray-On PoE.
Ray-On+ is the active, Dante™-input version of the Ray-On column loudspeakers. It combines the DGRC principle with an integrated DSP to equalise the loudspeakers and an integrated amplifier stage.
Ray-On PoEAs the term implies, it has PoE (Power Over Ethernet), which allows the active loudspeaker to be supplied with power via the network cable alone, which is also capable of carrying the digital audio signal according to the Dante/AES67 protocol. Again, the processor and amplification stage are integrated in the loudspeaker cabinet.
These are products designed for connected buildings. The network is used to configure the audio system in each room without the use of other cables, as well as to transport signal and power.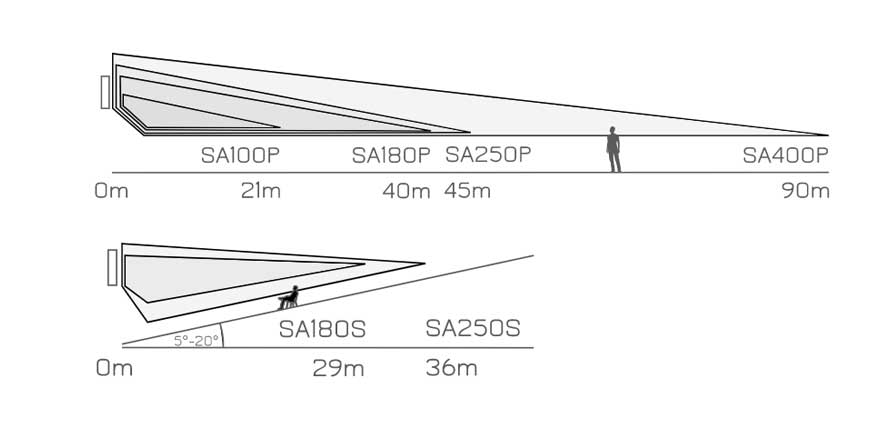 Performance and design for Vendôme installation speakers
Alongside the line arrays based on the proprietary DGRC technology, Active Audio offers installation loudspeakers characterised by a special research into finishes and a wide range of customisation possibilities. "Impeccable sound combined with elegant design' is the slogan that distinguishes the two models of the prestigious series. Vendôme. These speakers offer high-level sound performance - natural timbre, transparency, speed of response - combined with an elegant design. They are perfectly suited for the premium retail and hospitality environment: shops, restaurants, lounges and music bars, hotels.
Each Vendôme loudspeaker belonging to the Custom Series is a unique piece and is entirely handmade in France according to customer requirements. You can choose between a version bearing the company's trademark or a particular colour, or a finish in a precious wood veneer, an epoxy-enamelled carbon fibre, leather, etc.
Each diffuser Vendôme belonging to the Custom series is a unique piece and is entirely handmade in France according to customer requirements. You can choose between a version bearing the company's trademark or a particular colour, or a finish in a fine wood veneer, an epoxy-enamelled carbon fibre, leather, etc.
Vendôme Five is the ideal solution for small to medium-sized areas. In addition to its space-saving design and its ability to fit anywhere, this loudspeaker offers a high level of sound performance. 
The Vendôme Eight Instead, it combines the qualities of a professional product (8″ woofer, 1″ compression tweeter, SPL of 113 dB at 1 m) with a design typical of the hi-fi world. Vendôme Eight is unique in terms of materials and finish and is ideally suited to venues that require relatively high sound levels. Vendôme Five and Eight can of course be installed in combination.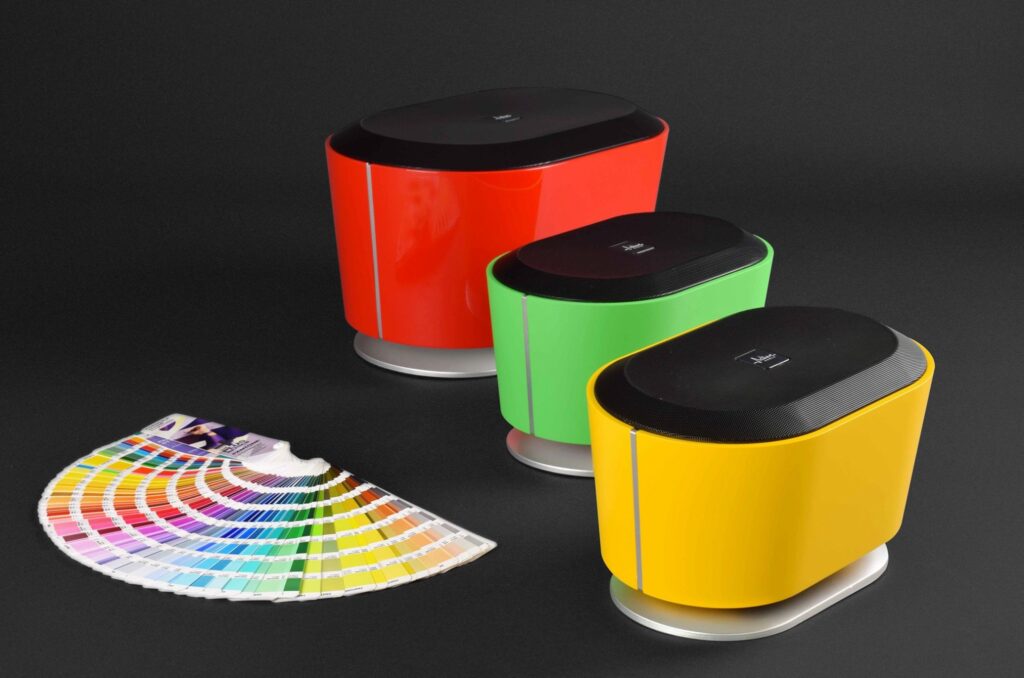 To conclude this overview, we point out that the company also produces an in-ceiling loudspeaker, the CL62, which employs a two-way coaxial driver with a 6" woofer and 1" tweeter. Intended especially for prestigious environments, it can be repainted and the logo removed.
Passive subwoofers to complete the Active Audio acoustic loudspeaker line-up
To extend the low-frequency response of the StepArray or Ray-On acoustic loudspeakers, especially for the reproduction of signals containing music tracks, the company has provided a pair of passive subwoofers, respectively SB110 and SB115.
SB110 is very compact and can be positioned horizontally or vertically, thus ensuring optimal integration with environmental features, thanks also to the possibility of choosing the colour between black and white.
The 10" woofer with neodymium magnet is loaded with a double volume. It achieves a remarkably low cut-off frequency (43 Hz @ -3 dB) in relation to driver size and cabinet volume, producing a powerful and dynamic sound with a maximum SPL of 119 dB at 1 m. It supports a continuous power of 300 W into 8 ohms. The processor NUT includes modules for subwoofer management, with presets corresponding to the SB110.
The model SB115 differs from the SB110 by the adoption of a 15-inch loudspeaker that allows a maximum SPL of an impressive 142 dB at 1 m. Supportable continuous power rises in this case to 1,100 W.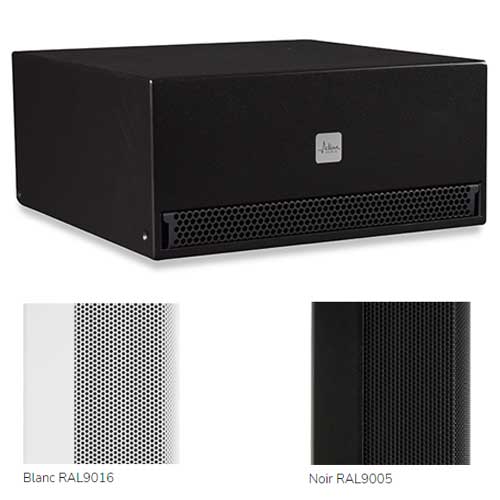 NUT is an 8×8 audio signal processor (i.e. with 8 inputs and 8 outputs) designed for PA applications and to improve speech understanding in conjunction with StepArray systems. It was developed to overcome the fact that most commercially available audio processors are over-engineered (i.e. they do more than they should) and under-utilised due to their difficult learning curve for the uninitiated.
NUT was born from the ambition to offer customers an intuitive and totally user-friendly audio processor. It offers a wide range of ready-to-use applications that can be run, adjusted and controlled via a web browser. These applications have all the settings the user might need, including volume, EQ, compressor, delay, feedback killer and routing, plus features exclusive to Active Audio such as StepArray directivity control, Automix and Speech Conformer.
NUT-Lite includes all the features of its big brother except StepArray directivity control and is recommended for Ray-On column loudspeakers.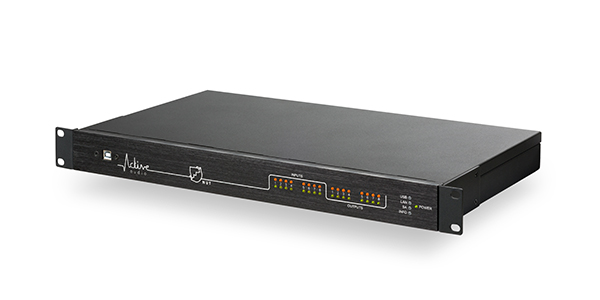 2, 4 and 8-channel Class D power amplifiers
There are five models of power amplifiers in the Active Audio catalogue, all based on a class-D circuit for maximum efficiency and intended to drive the Ray-On or Step-Array series loudspeakers and their subwoofers: Duecanal 1604 / DSP+D, Four-channel 1204 / DSP+D, Four-channel 2404 / DSP+D, Eight-channel 4k4 / DSP+D e MPA8200.
Specifically, the MPA8200 is an 8-channel independent amplifier designed to work with all low-impedance Active Audio loudspeakers. It is capable of delivering 8 x 200 W into 8 Ω and 8 x 300 W into 4 Ω, which becomes 4 x 600 W into 8Ω by connecting the bridged output stages.