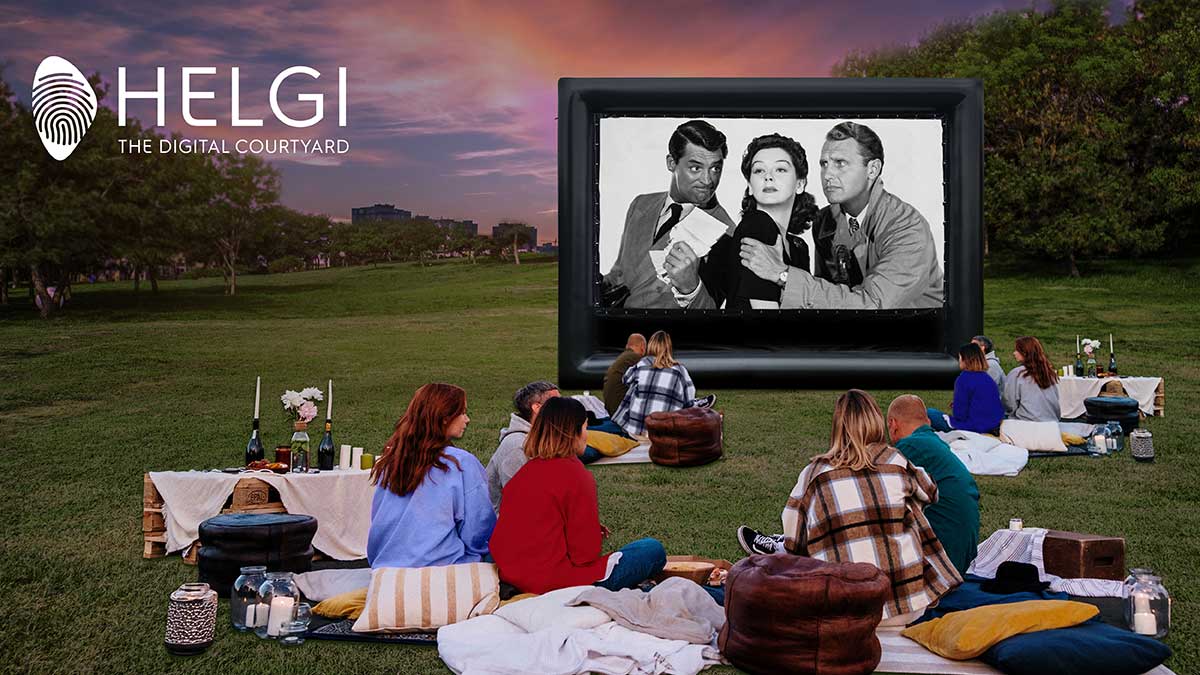 HELGI presents a new product line, available in three different sizes, that represents a breakthrough in the world of projection screens: LUFT.
These are inflatable screens with retained air, i.e. with an airtight chamber (they inflate once and do not need a motor running all the time) ideal for cinemas, festivals, shows and outdoor travelling events in general. Highly professional products that combine large dimensions (screen base up to 8 m) with ease of transport and installation.
The main features of these screens are their ease of use, speed of set-up and versatility of use. The special inflatable structure allows them to be used in any context, be it a car park, a square, a park or a beach.Thanks to their low weight, they really do adapt to all locations.
The procedure for putting the screen into working condition is very simple: once a suitable location has been chosen (flat, even, preferably horizontal surface), the inflatable has been taken out of its case and placed on the surface, the screen sheet must be spread on the dedicated part and the anchoring rods must be set up. For this purpose, the structure is equipped with 4 metal eyelets on the base perimeter and 2 on the uprights. Only then can LUFT be connected to the supplied electric pump and the inflating process begin. 
The projection fabric is tensioned by a PVC frame, which is in fact the structure that inflates, together with the rear foot that allows it to be held upright. The internal pressure sufficient to make the inflatable take on its proper shape and consistency is only 0.2 bar higher than the external pressure. HELGI LUFT inflatable screens are available with numerous projection surfaces, both for front and rear projection. It is possible to use one inflatable structure with several different canvases, replacing them if necessary.
It is possible to customise the inflatable structure with customer brands, logos and advertising on request.
Canvases with perimeter edges and eyelets, supplied with rigid PVC rods. The canvases are mounted on the structure by inserting the rigid PVC rods inside the perimeter edges directly into the hooks on the structure. This system allows for perfect flatness and uniformity of the projection surface.
The inflator is a 220 V, 1200 W high-performance electric pump with bayonet coupling.
Available canvases: Soft White, Soft Matt White, Soft Contrast Grey, Transound, Retroprojection, Dual Face
16:9 projection ratio, 500, 720 and 800 cm useful base
Inflatable air-retaining structure made of 500 g/m2 PVC coated polyester for smaller sizes and 950 g/m2 for larger sizes. Made with triple heat welding, safety valve and self-supporting rear foot.