Ligra DS is a reseller of Wacom graphics tablets in Italy.
Wacom Co., Ltd. is a manufacturer of graphics tablets and graphics products based in Toyonodai, Japan. Founded in 1983, it is currently the world's leading manufacturer of graphics tablets, with consolidated net sales of 88.6 billion Japanese yen in 2020. 

The name 'Wacom' is a Japanese word composed of the terms 'Wa' (harmony, circle) and 'Komu' (computer).

Since the creation of the first tablets, Wacom has collaborated with leading manufacturers by providing its 'Penabled' technology. This particular active digitiser technology supports over 4000 pressure levels, giving the Tablet PC advanced digital ink capabilities and the ability to write naturally on the screen by resting the wrist on it. 

In October 2009, Wacom made available to manufacturers a new type of capacitive digitiser capable of providing multi-touch functionality to Tablet PCs, thus stopping N-Trig's monopoly in the sector that had continued since 2007. The digitiser is capable of recognising the simultaneous presence of two fingers on the screen and of activating the Windows Touch functionality present in the Windows operating system.
The One by Wacom series is the simplest and most accessible. Lightweight and compact, with a black front and red back cover, it is available in 7-inch Small and 10-inch Medium versions.
The tablet supports 2,048 pressure levels and the lightweight (10 g), responsive and ergonomic pen allows you to create with naturalness, control and accuracy without cables or batteries for power. 
Accuracy is ensured by writing technology based on electromagnetic resonance. App and programme configuration is easy and intuitive: simply connect One by Wacom to a PC or Mac via USB and install the dedicated driver.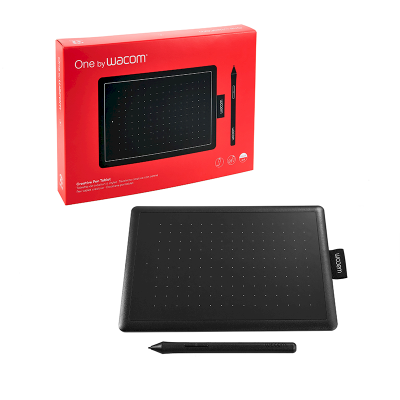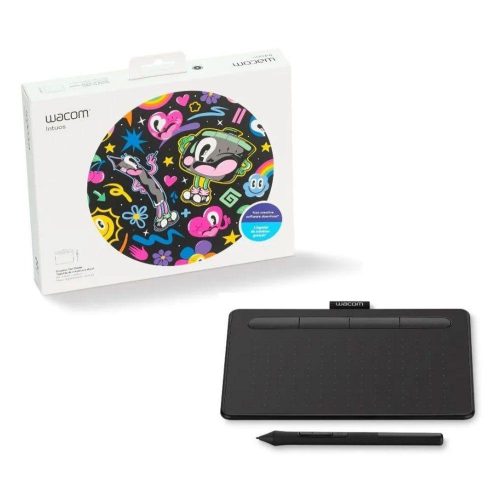 Wacom Intuos Small - Medium and with Bluetooth
Wacom's Intuos series is also available in Small and Medium versions, in black and pistachio colours and in variants with Bluetooth connectivity. Easy to set up and use, up to three pieces of creative software can be downloaded upon registration on the Wacom website.

The tablet features 4,096 levels of pen pressure sensitivity that provide greater control and precision in touch.

The large drawing area is combined with the super-slim design (only 8.8 mm) and extreme intuitiveness: thanks to 2 pen buttons and 4 customisable ExpressKeys™ that allow you to set your preferred shortcuts.

Finally, Bluetooth 4.2 connectivity allows you to connect to your PC wirelessly at the touch of a button, while the USB-A port allows you to connect Wacom Intuos to your Android smartphone or tablet (OS version 6.0 or later) to transfer any type of content.
The One model has the largest screen of the other series: 13.3 inches in Full HD 1,920 x 1,080, almost the size of an A4 sheet of paper. The natural friction rendered by the electromagnetic touch transmission technology and the minimised reflection give the experience of writing ink on paper rather than on a screen.

The USB cable connection amplifies its creative potential: compatible with Windows 7 and later, Mac OS X 10.13 and later, it can connect with Macs, PCs and some Android devices to transfer files and easily install apps and software to increase processing possibilities.

The package contains Wacom's Bamboo Paper software with advanced features included, as well as the possibility to download other dedicated Wacom software by registering the device at the site.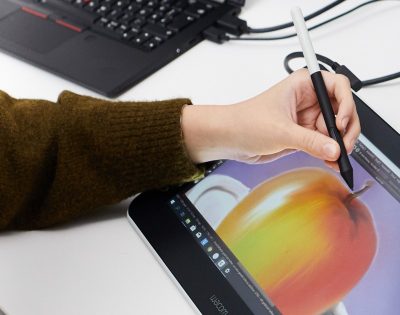 Wacom has patented the Wacom Ink Layer Language, WILL™ for short. This is the idea of a universal ink based on biometric identity and used to create ink experiences for the future.
Wacom Ink technologies include:
- An algorithm that creates a beautiful visual representation of ink, which motivates people to use it
- A specialised file format for digital ink (similar to .pdf or .doc), with a structure that allows metadata to be stored for an unlimited number of use cases
- A family of SDKs that developers can use to quickly and easily integrate WILL digital ink functionality into their applications on any platform, using any digital pen or touch device