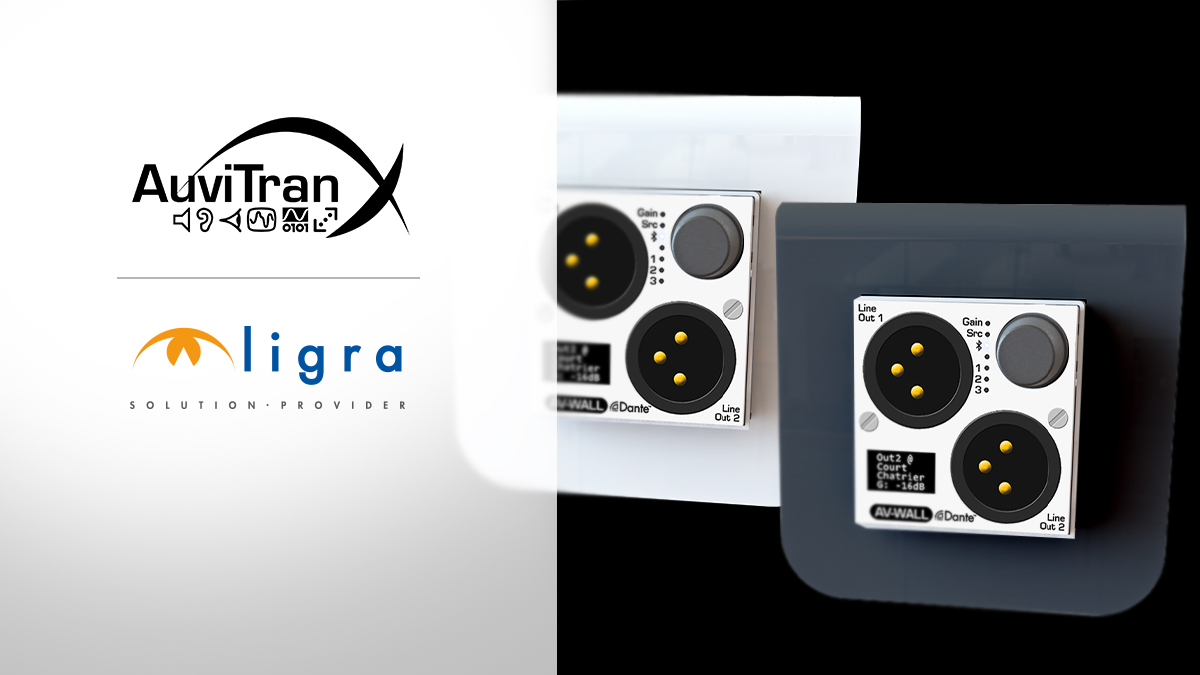 Ligra DS counts among its new audio products those of the French company AuviTran, with which it has signed an exclusive distribution agreement for the Italian market. Based near Grenoble, AuviTran is a company specialising in the production of products for audio over IP, which thus convey uncompressed digital audio signals in real time over an Ethernet network. In particular, modular and scalable units (ToolBox) which, by means of the insertion of special interface cards, make the two worlds of audio over network protocol dialogue with the traditional one, both digital and analogue, Dante® breakout boxes with integrated DSP and wall box interfaces, for wall mounting, which collect the analogue signal and make it available over IP, or vice versa. These types of devices are particularly useful in installations with distributed audio.
Audio ToolBox: connects, sorts and routes audio signals with different protocols
AuviTran ToolBoxes, available in StageBox or Installation versions, comprise two models that can be configured with different modules/boards that differ in the protocols supported:
These cards are called AxC-Card e uonce inserted in the racks, as required, make ToolBox a versatile tool that works from audio matrix and by conversion units by sendingfor example, signals from MADI to Dante®MADI to AVB, Dante® to AVB, MADI to Dante®/AVB together etc.. 
ToolBox obviously relies on a software, AVS-Monitor, which allows all boards to be managed and the matrix to be used to assign inputs to outputs in the desired manner.
StageBox version: inputs/outputs on the front panel and power supply at the rear
Install version: inputs/outputs on rear panel
Available cards: Dante®/AES67, AVB, CobraNet, EtherSound, AES/EBU, network switch, MADI electrical/optical, ADAT, DSP, analogue in/out
Redundant power supply option
Recalling and storing presets
GPIO
Below are three examples of AxC-Cards: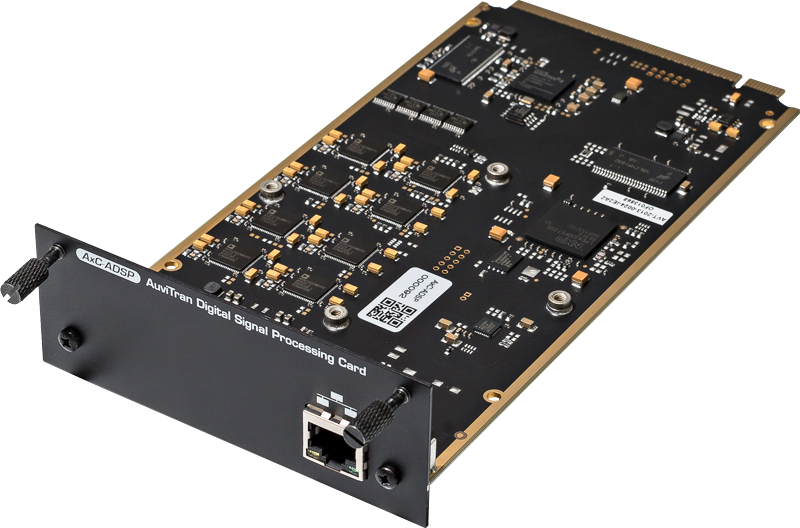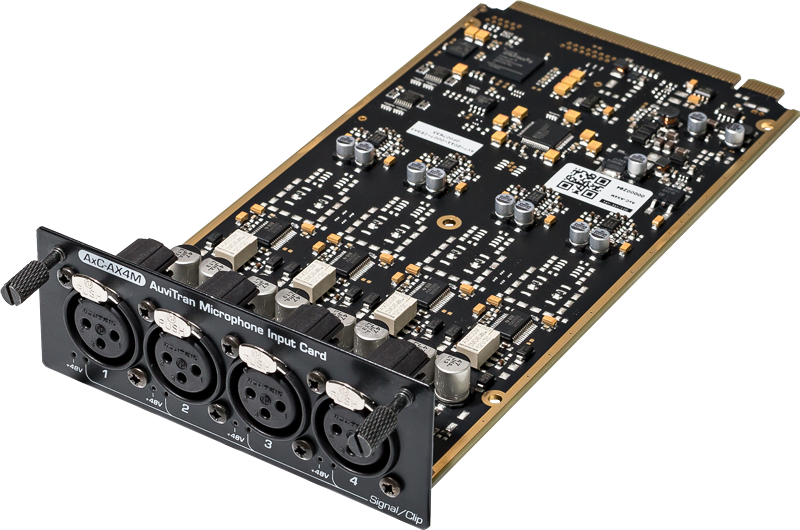 Dante® breakout box AVDT-BOB
They convert an audio signal into various formats in the Dante® protocol. With two redundant network ports, primary and secondary, the breakout boxes can be powered by Dante PoE or an external 12 VDC power supply. The use of quality A/D - D/A converters results in an extremely low noise floor and high dynamic range.
The breakout boxes available are as follows:
AE4IO: 2 x MIC/line input and 2 x line output
AE8IO: 4 x MIC/line input and 4 x line output
AEG6IO: 2 x MIC/line input, 4 x line output and 4 x GPIO
AS8IO: 4 x MIC/line input, 4 x line output on DSub connector, 2 x optical SFP
ADE8IO: 2 x MIC/line input, 2 x line output, 1 x stereo AES3 in/out, 4 x GPIO
ADX8IO: 2 x MIC/line input, 2 x line output, 1 x stereo AES3 in/out, 4 x GPIO on DSub connector, 2 x optical SFP
Compact Dante breakout box with integrated DSP

 

High-quality microphone preamplifiers and A/D and D/A converters

 

Dual core ARM processor 

 

4 independent mixers

 
8 equalisers and 8 compressors/limiters 

 

Direct remote control, without software installation, from Mac OSX, Windows and Linux computers

 

Remote control via iPad, iPhone or Android tablet/smartphone

 
AV-WALL: ultra-compact Dante® interfaces for wall mounting
These are panel-mounted Dante® I/O interfaces available in four variants:

 
 

DT4i:

 2 x MIC/line inputs on XLR, 1 x line input on stereo mini-jack with rotary encoder for control

 

DT4i-LE:

 2 x MIC/line inputs on XLR, 1 x line input on stereo mini-jack

 

DT4o-B:

 2 x line outputs on XLR, rotary encoder for control, OLED display

 

DT4o-LE:

 2 x line outputs on XLR, 1 x line output on stereo mini-jack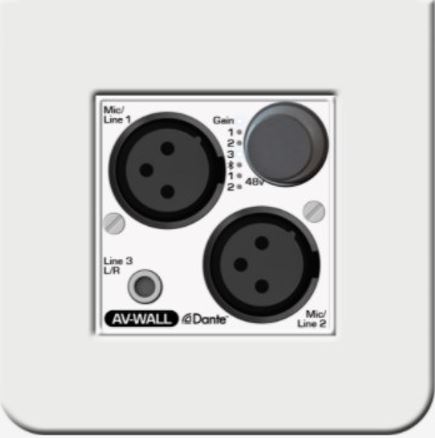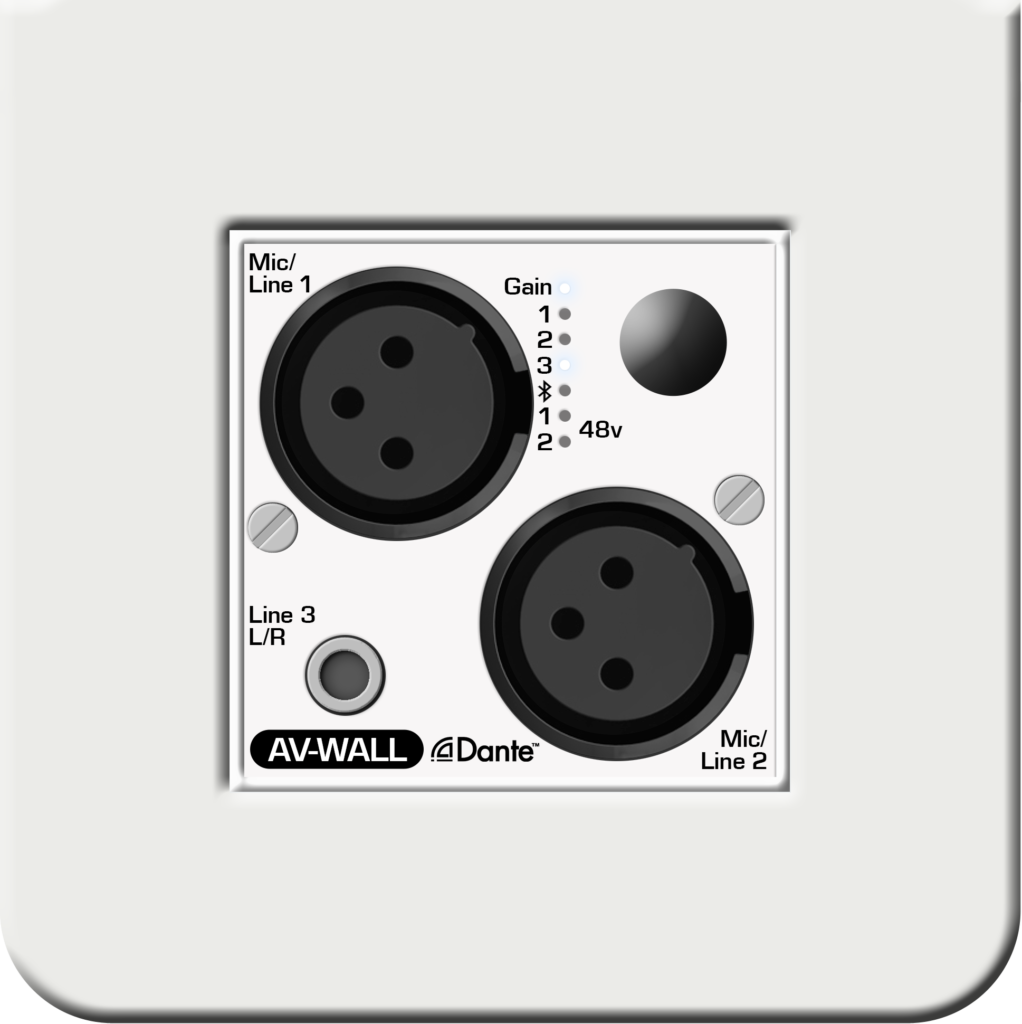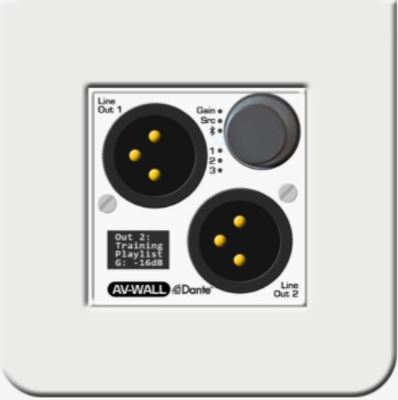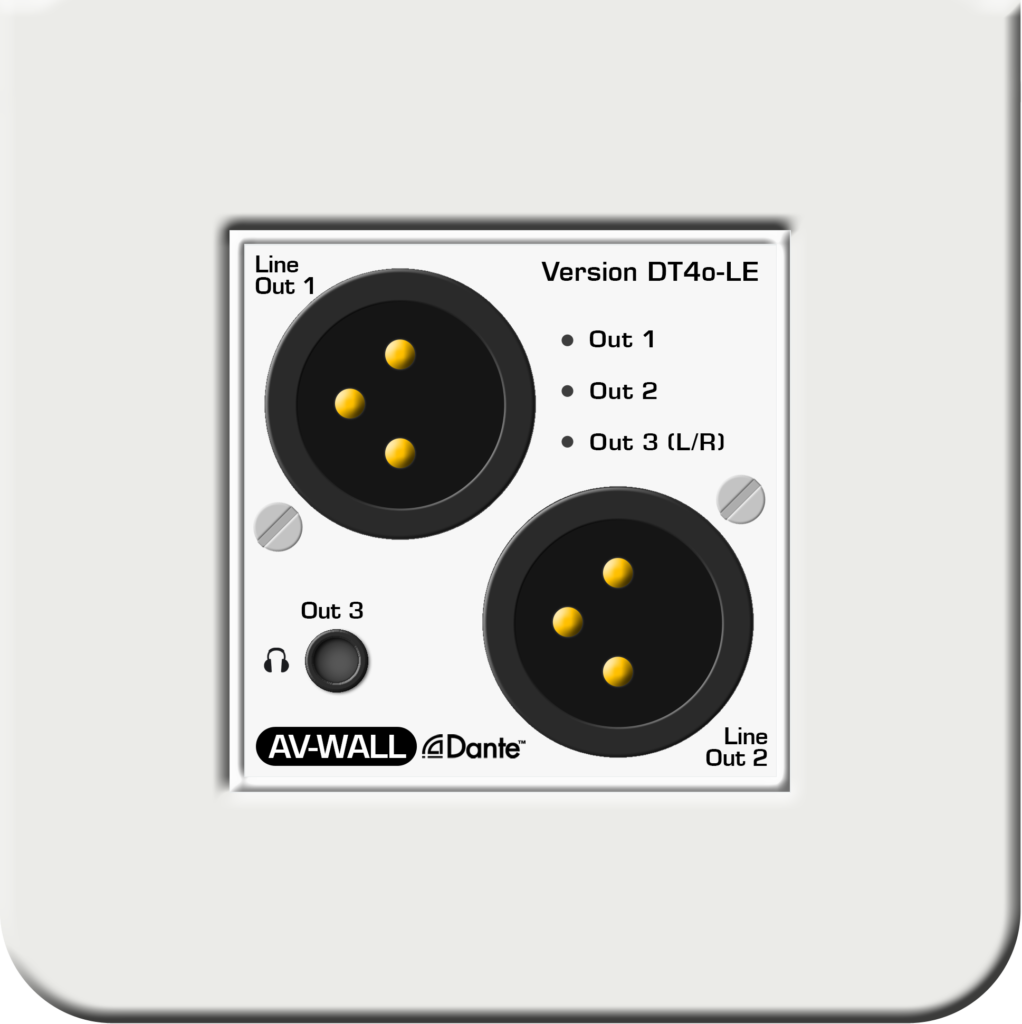 Extremely small dimensions, only 45 x 45 mm

 

All gains can be controlled remotely via network or locally via rotary encoders in 1 dB steps (for versions with encoders)

 

Optional Bluetooth extension only for AV-WALL-DT4i, standard on AV-WALL-DT4o-B

 

PoE power supply via RJ45

 
Interchangeable mounting plate, white or black