From 27 to 29 June was held in the Ligra DS headquarters an important internal NEXO brand eventwith official speakers directly from the parent company, namely:
Gianni Fantini: Italian Sales Manager with over 30 years of Pro Audio live experience in Italy.
David HochstenbachTechnical Manager for 18 years in the company, responsible for all speaker presets and fine tuning, as well as the design of acoustic environments and technical training seminars.
The event was a real workshop during which the flagship products, innovations and features of Pro Audio NEXO technologies were illustrated, both in theory and in practice with indoor and outdoor listening.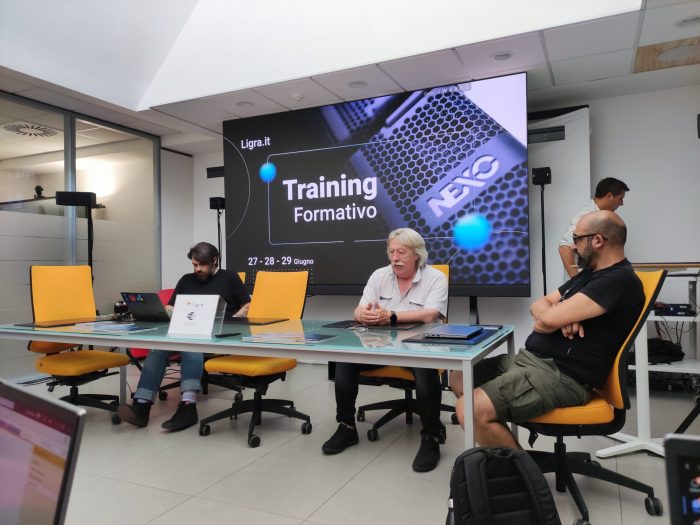 NEXO: the origins of the brand
NEXO is a French company world leader in the design and construction of loudspeakers for installation, sound reinforcement and related electronics such as amplifiers and DSPs. The resources allocated by NEXO to the R&D department have led, over the years, to the filing of numerous patents, which, when applied to products, have also translated into benefits at a commercial level. The high level of appreciation of NEXO's products worldwide is witnessed by the fact that export activities now cover almost the entire turnover. In 2008 NEXO was acquired by Yamaha Corporation and is now a strategic business unit wholly owned by the Japanese giant, ensuring a convergence of technological expertise.
NEXO products are used in corporate and hospitality environments, public spaces, theme parks, places of worship, show business and many others.
The secrets of NEXO's product success
The incidence of failure of NEXO brand products is minimal: they are tested persistently, and under all conditions, in what is jokingly called the "Torture chamber: a product stress test laboratory site in the French factory.
NEXO has a sound that is recognisable the world over: this is due to the meticulous study of each product for an extremely linear performance, without altering the frequency response. This leitmotiv of the brand stems from its very origins: the founder was a lover of classical music, so he did not want to alter its original sound.
A unique and successful system for designing sound environments
It is called NS-1 System Configuration Software: is a powerful and intuitive system configuration and simulation tool that allows users to design and optimise the performance of any NEXO set-up by predicting its behaviour, whatever the installation scenario, to ensure uniform SPL (Sound Pressure Level) coverage.
NS-1 is a programme with an intuitive drag-and-drop interface that combines and processes 3 different types of dataacoustic (the mathematical data that quantifies and predicts SPL coverage), mechanical (the physical data of the loudspeakers and subwoofers) together with digital tools to optimise the design of curved vertical line arrays. A section of the dashboard also defines the mechanical constraints to establish the safety of the installation in general and of individual audio devices in suspension, generating reports for size, weight, centre of gravity position, forces in play, tensile load and mechanical work of the entire system.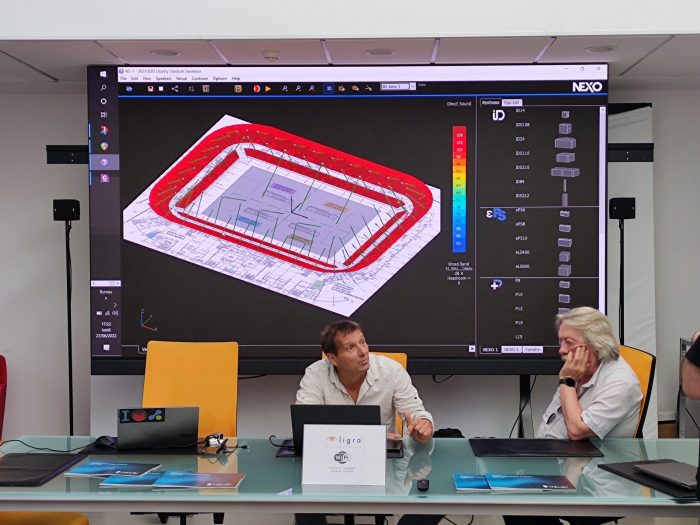 NS-1 is the essential software to ensure targeted and uniform SPL coverage on a certain geometry of the location and consequent arrangement of the audience.
Audioversity - NEXO Technical Support
It is a collection of training webinars which NEXO's technical support division has implemented on YouTube so that they can be consulted and used by engineers/owners/system operators who may not yet be familiar with NEXO's systems, to give them skills and knowledge to improve their own business.
Two product lines: Point Sources and Linear Sources
Foreword: Three fundamental technical specifications must be taken into account when designing an audio system:
Maximum SPL

Bandwidth

Coverage 
Generally, larger speakers result in greater directivity, therefore, they can guarantee better intelligibility.
POINT SOURCES:
Description: A source can be considered point-like when its size is small compared to its distance from the receiver. Such a source in free field produces spherical sound waves.
Features: Limited SPL, short range, fixed directivity, not in array, small footprint.
Applications: small spaces, fills, AFC immersive sound (Dolby Atmos), discrete sound (lounge).
LINEAR SOURCES:
Description: a linear source in a free acoustic field produces cylindrical waves.
Line array: propagation field over a cylinder (not a sphere as with point sources) with SPL decreasing by -3dB by doubling the distance. NEXO line arrays provide concrete cylindrical propagation by using the parabolic mirror technique for effective linear propagation (waveguides along a cylinder).
Features: High SPL, medium and long range, variable horizontal coverage, can be arrayed, large footprint.
Applications: FOH, covering large spaces.
SERIES ID:
ID14: the smallest and most compact, 116dB peak 4" speaker, can be set at an angle of 100°x100° or 90°x140°. Can be combined with the 8" ID S108 sub for low frequency extension. They differ in rigging to mount as required (wall/ceiling mount). With NS-1 in the project simulation you can choose the horizontal or vertical dispersion to be simulated.
ID24: 126dB peak, 4" drivers (white or black), suitable and resistant to all kinds of weather conditions (both touring and installation versions). This product is NEXO's best seller worldwide. Inside the speakers is the horn, which can be physically oriented horizontally or vertically. The touring version with side hooks is perfect for monitor configurations.
ID84: column speakers, 135dB peak SPL, 8×4 inch LF drivers + 8 ohms HF, two directivity selectable at the back with a switch: narrow (by 10°) or broad (by 25°) for the 8 HF. HFs placed two by two allow control of sound directivity.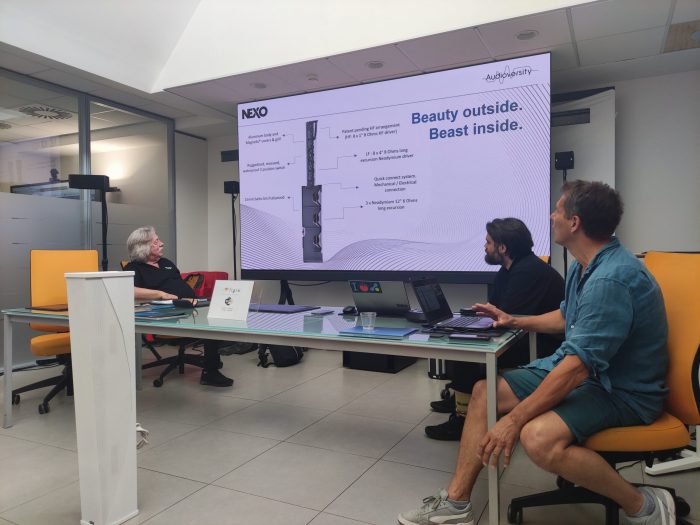 ePS SERIES:
ePS6, ePS8, ePS10: respectively with 125-128-130dB peak SPL, with dedicated eLS400 and eLS600 subs. They deliver impressive results.
ePS12: the novelty. The processors in the subs are designed to have different frequency bands according to requirements.
ePS: have an asymmetrical horn that allows the cover to be changed. This horn is also available in the P12 and P15 series.
P+ SERIES: the top model
P8, P10, P12, P15: respectively with SPLs of 129dB 136dB 140dB 141dB peak. Made from a refined curved wood (as made by luthiers) not glued and cut. Winners of many mechanical awards, they have water-based (environmentally friendly) scratch-resistant paint. The P12 is currently the best-selling type as a DJ monitor in Italy.
Other product series
The Geo M series consists of three systems: GEO M6, M10 and M12 - each with variable horizontal dispersion and each with a dedicated subwoofer cabinet: MSUB12, MSUB15 and MSUB18 extending the frequency response down to 45Hz, 40Hz and 32Hz respectively.
The system controls to be implemented are:
- DTD T - DTD I: touring or installation
- Two 4-channel DTD Amps of 700W or 1300W
- NXAMP mk2
The remote controls to be implemented are:
- NEMO Software (NEMO total system management control)
- Dory Software (for preset setting)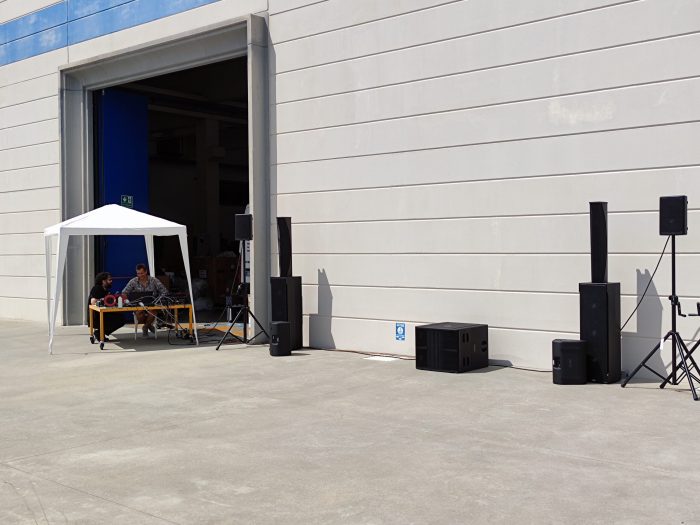 The event, which involved Ligra DS category managers and sales force, was a great success: the notions shared by NEXO have strongly interested the team of Ligra which is now the main Italian contact for the distribution of the brand in question.